Galouti Kebab is a luscious melt-in-the-mouth delicacy that was originally invented in the city of Nawabs, Lucknow in the North Indian state, Uttar Pradesh. The Khansamas of Nawab Asad-ud-Daula pioneered this delicious galouti kabab recipe to quench Nawab's insatiable thirst & love for different kebabs.
Resources reveal that at the time of its invention, over 150 exotic spices were used to make this creamy, silky, mouth-watering delicacy. Haji Mohammad Fakr-e-Alam Saheb, the creator of Moti Pulao, made the first Galouti Kebab, the mainstay of Awadhi cuisine.
He replaced beef with finely minced lamb & used a heavenly mix of 150 spices to build the flavor. Once the mixture was ready, he moulded it into patties & fried in oil for a scrumptious finish.
Apart from galouti kebab masala, Lucknow is the birthplace of several mouth-watering delicacies like Lucknawi Biryani, Parind Puri, Moti Pulao & meaty kebabs such as Tunday Kebabs and Patili Kabab. The city has managed to conserve its rich royal heritage be it khatirdari (hospitality) or cuisines.
This culinary innovation of Lucknow in the form of Galouti kebab masala is savored across the world & is eminent for its rich taste & flavors. It tastes best when paired up with Mint-Coriander chutney. 
Try your hands at this aromatic & delectable galouti kebab recipe & serve it on the snacks platter at house parties or an extravagant weekend dinner with someone special. You may sprinkle some lemon juice on the kebabs before serving to add to its taste.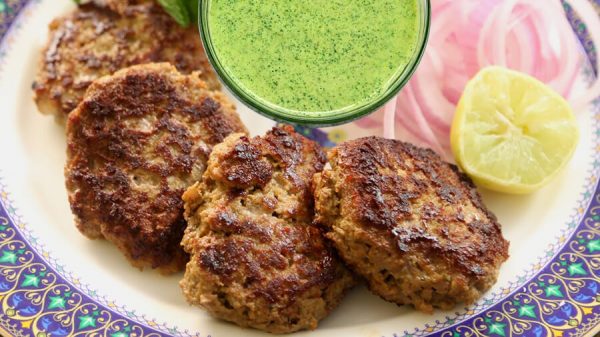 | | |
| --- | --- |
| | |
Marination Instructions:
Take a large bowl & add all the ground spices to minced lamb (except oil/ghee).

Refrigerate the mixture for 1 hour.
Cooking Instructions:
After 1 hour, take out the mixture from the refrigerator & mould it into patties.

Pre-heat oil/ghee in a heavy-bottomed skillet on medium flame.

Place the patties in the oil carefully & deep fry until golden brown.

Turn the kebabs occasionally for uniform cooking & color.

When cooked, transfer the fried kebabs to a plate lined with paper towel to drain excess oil.

Drizzle the kebabs with lemon juice & serve hot with Mint-Coriander Chutney.