Cream of mushroom soup is a classic soup made with roux (mixture of butter & refined flour) & a hearty proportion of mushrooms. Roux is thinned with cream or milk before mushrooms could be added to it.
This simple mushroom soup recipe comprises of easy to find ingredients that you may already have in your kitchen. You will love every second that you spend on making this mushroom soup recipe. You walk into the kitchen; throw some ingredients together, only to come out with a bowl of warm, creamy & delicious soup with tender pieces of mushroom in few minutes.
Follow the instructions given below to make easy cream of mushroom soup at home. Replace the canned mushroom soup with this easy to make recipe. Happy cooking!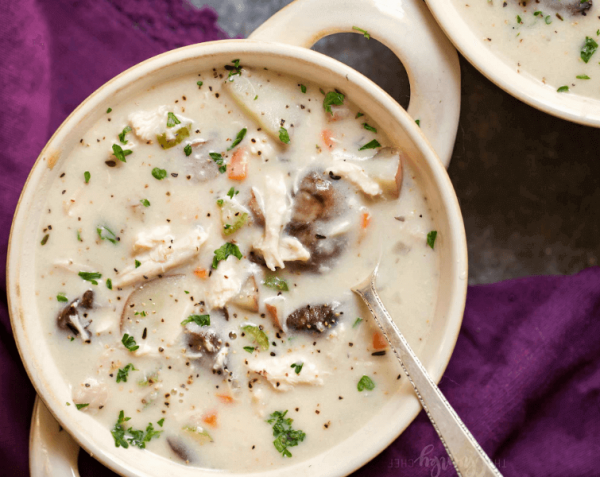 | | |
| --- | --- |
| | |
Take a large saucepan & heat butter over medium –high heat.

Add chopped onion & garlic to the butter & sauté until tender.

Now add refined flour & stir continuously for 2-3 minutes until fragrant to obtain roux.

Mix milk & water in a separate container.

Now add this mixture (milk & water) to the roux & stir continuously to ensure no lumps are formed.

Bring the mixture to a boil & add mushrooms, salt & pepper to it.

Now reduce heat; add cream & stir it well.

Boil the mixture gently with continuous stirring for about 15 minutes until flavors are blended & soup thickens.

Garnish with coriander leaves & serve hot