Today we are bringing you the renowned Mughlai Kebab- Kakori Kebab.
It is a famed & acclaimed term in the world of kebabs. This melt-in-the-mouth Kakori kabab delicacy describes the softest kebabs in the world.
These extra-tender & succulent kebabs are made with minced lamb or mutton, marinated with raw papaya & a range of Indian seasoning & flavors, wrapped around needle like skewers & baked in oven. However, in this recipe we are replacing metal skewers with Bamboo Skewers & bake the kebabs in oven.
Try this delectable non-vegetarian snack to end your pangs of hunger or serve it as snack or appetizer on house parties, game nights or pot luck. Garnish Kakori Kebab with chaat masala & pair it up with mint chutney or tomato ketchup.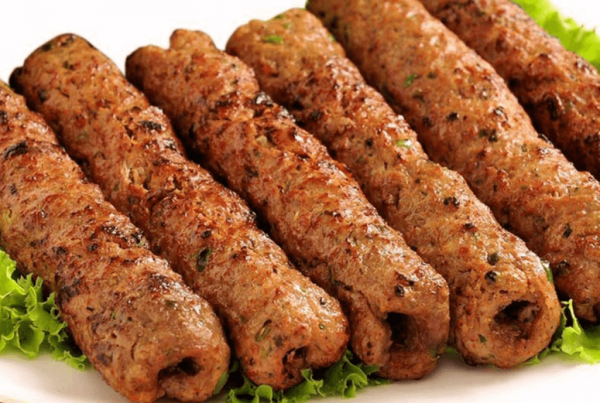 | | |
| --- | --- |
| | |
Marination Instructions
Heat ghee in a pan. Add chopped onions to it & sauté till lightly brown. Turn off the flame.

We will use Food Processor in pulse mode to mix and grind the mixture. Firstly, Add browned onions, raw minced Garlic, and chopped ginger to Food processor. Process till it is almost a paste

Add mashed papaya to the mixture & process in pulse mode.

Add ground lamb to it and process in pulse mode.

Now transfer the contents of food processor to a large mixing bowl.

Add ground spices to the mixture. Cover and let it marinate at room temperature for 4 to six hours.
Masala Mix
Once the mixture is marinated,add Kewra water & beaten egg & mix well.

Sprinkle Besan on the mixture and mix well. You need to make it like soft bread dough for Chapati. Adjust the amount of Besan as needed.

Let mixture rest for 20 to 30 minutes & then knead again.
Baking Instructions
Cover each skewer with about ¼" thick mixture. It will look like a cigar that has been pierced with a skewer lengthwise

Preheat oven to 375º F. Bake kebabs for 25 minutes. Serve hot with tomato ketchup or mint chutney.