Vegetables have always been scarce in Rajasthan. Pickles and Chutneys, therefore have always been a prominent part of the Rajasthani Cuisine. Rajasthan is not just famous for its majestic forts and colorful culture but also for its delectable cuisine. This delectable cuisine embodies bold flavors and aromatic spices. One such fiery and flavorsome recipe that captivates the taste buds and that embodies the essence of this regional cuisine is the "Rajasthani Mirchi Ke Tipore".
This Traditional Besan Wale Mirchi Ke Tipore is a side dish. It is made with green chillis, gram flour & spices. Though it is a side dish, it still takes the center stage when served with any meal as a condiment. The recipe for Mirchi Ke Tipore has been passed down through generations & cherished as a traditional gem. This recipe reflects the culinary heritage of Rajasthan. However, as with any treasured recipe, variations and modern adaptations have emerged over time. This is one of the most authentic & revered recipe taught by my mother-in-law and the best & oldest cooks of Jaipur – Shri Shobhram Ji.
So let us embark of this flavorful and spicy Journey and let us learn how to make Marwadi Mirchi Ke Tipore by Payal's Pasison.
Click here to SUBSCRIBE TO THE CHEF PAYAL JETHANI'S YOUTUBE CHANNEL.
Click here to play the YouTube Recipe Video for Rajashani Besan Wale MIrchi Ke Tipore.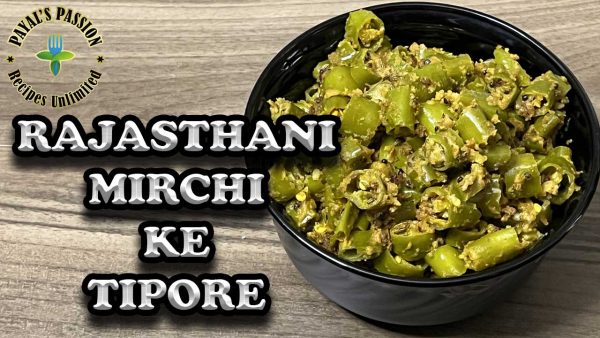 | | |
| --- | --- |
| | |
Cut the chilis in small round pieces.

In wok, on medium flame, heat 2 Tbsp. Mustard Oil.

As soon as you see slight fumes from the oil, immediately add 1/4th Tsp Asafoetida, 1 Tsp Cumin Seeds, 1/2 Tsp Fenugreek Seeds. 1 tsp Black Mustard Seeds & 1.5 Tsp Fennel Seeds.

Now add 3 Tbsp Gram Flour. Keep stirring and cook gram flour on low flame for about 1 minute. Cook till the gram four slightly changes in color and starts giving a sweet aroma.

After cooking the gram flour add 500 Grams of green chili cut into small pieces.

Mix well to coat the chilis with the gram flour.

After mixing the gram flour with chilis add 1.5 Tsp Regular Salt, 1.5 Tsp Turmeric Powder, 2 Tsp Coriander Powder & 2 Tsp Dry Mango Powder.

Mix the spices well with gram flour and green chili.

After mixing the spices with the green chili, add 2 to 3 Tbsp water. This helps the chilis to absorb the spices.

Cover and cook the chilis of low flame for about 5 minutes.

After cooking for 5 minutes on low flame, remove the lid and stir the chilis well. This ensures proper cooking of the chilis & is also a check to see that the chilis are not sticking to the wok bottom.

After stirring, cover & cook the chilis for another 2 to 3 minutes.

After cooking for about 3 minutes, out Rajasthani Mirchi Ke Tipore are ready. Urn the Gas/Heat off at this point.

Dish out in a serving bowl. You can refrigerate them in a container with a lid. They can be used for a week if refrigerated.

Serve with any meal to increase the taste. They can be served with breakfast, lunch or dinner. In Rajasthani, they are served with Dal Bati Choorma, Parontha, Dal Chawal, Poori Aloo & almost every dish you can think of.
Contact Chef: Payal Jethani
Tips: Refrigerate in a container with a lid. They can be used for week.
Goes well with: Specially Served with Dal Bati Choorma, Parontha, Dal Chawal & Poori Aloo