Kairi Ka Achar or Instant Mango Pickle is a traditional Indian Pickle Recipe. Pickle Recipes have been an integral part of the Indian Cuisine. What good are summer meals if not enjoyed with the classic and delicious Kairi Ka Aachar? This quick and easy recipe of Instant Mango Pickle is just the one you need in this scorching heat. For ages now, Indians have made Raw Mango Pickle at home. This procedure involved coating raw mango pieces with a selected blend of spices and oil and leaving them in the sun for a number of days. The slow heat from the sun would cook the mangoes and give an immaculate taste to the pickle.
This recipe is an instant and simple one. We use the heat from the stove to instantly cook our raw mangoes and create a pickle that is simply loved by all.  It requires minimum ingredients and minimum time to prepare this finger-licking raw mango pickle. You can relish the lip-smacking flavor of the pickle along with your meals and make your meal a wholesome one.
So without further delay let us start making these mouth-watering, finger-licking & yummalicious Instant Kairi Ka Aachar.
Click here to SUBSCRIBE TO THE CHEF PAYAL JETHANI'S YOUTUBE CHANNEL.
Click here to play he YouTube Video Recipe for Instant Kairi Ka Achar.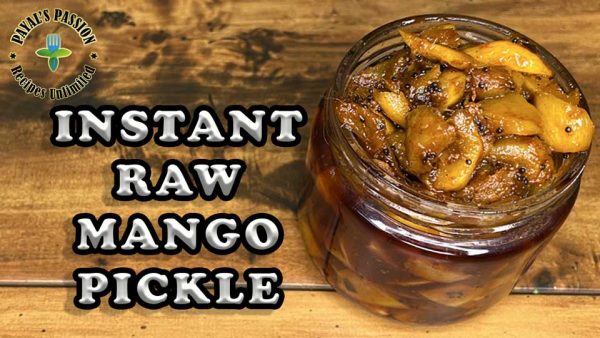 | | |
| --- | --- |
| | |
To a wok, on medium flame, add 1/4th Cup Mustard Oil. Keep the rest for later use.

When the oil heats up add, 1 Tsp. Mustard Seeds. When the mustard starts to crackle, 2 dried whole red chilies, ¼ Tsp. Asafoetida, 8-10 Pcs Curry Leaves / Kadi Patta & 10-12 Pcs Garlic Cloves.

Saute the spices for 30 to 40 seconds. When the garlic starts giving a good aroma, add 1 Tbsp. Kashmiri Red Chili Powder, Peeled Raw Mangoes Cut in Small Pieces & 1 Tsp. Salt.

Mix well till every piece of raw mango is properly coated with the spices.

After mixing well turn the heat to low and cook the mango pieces for 5 minutes. Keep mixing the Mango to evenly cook all the pieces.

Turn the heat off after 5 minutes & add the remaining 1/4th cup of mustard oil to the cooked mangoes.

Mix well after adding oil & let it cool down to room temperature.

After cooling down, dish out in a clean dry container.

Serve as is or refrigerate for 3 to 4 hours before serving. Serve with every meal.
Contact Chef: Payal Jethani
Tips: Use Sufficient Oil. The storage container should be completely dry (moisture free) and clean else there will be fungus growth.
Goes well with: Every meal specially paronthas (parantha) Breakfast.