Paneer or Cottage Cheese is the one of the most versatile ingredient. It can be used to create elaborate traditional main course dishes and then it is the best for creating vegetarian snacks & appetizers. This Easy Paneer Popcorn Recipe is a lip smacking starter that with light up your parties and festivals. Kids simply love this.
This paneer recipe uses a little effort but the outcome is simply amazing and will leave your kids and family asking for more. Crispy Paneer Popcorns are also called Paneer Pops. I always make them for my Diwali starters. It is one of my favourite Diwali Recipes.
I use crushed corn flakes to coat the paneer cubes but you can use dried bread crumbs too. Cornflakes however result in a crispier and crunchier paneer pops. If using corn flakes to coat the pops then, just before frying, you can freeze them in an airtight container for 10-15 days.
They can be served with a variety of dips. I usually serve them with an instant Schezwan Mayonnaise Dip.
Click here to SUBSCRIBE TO THE CHEF PAYAL JETHANI'S YOUTUBE CHANNEL.
Click here to play the YouTube Video Recipe for Crispy Paneer Pops.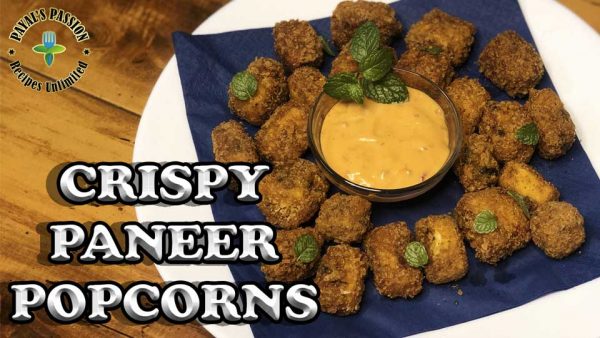 | | |
| --- | --- |
| | |
To a mixing bowl add 3 Tbsp. All Purpose Flour, 1/4th Cup Corn Flour, Salt as per taste, 1 Tsp. Red Chili powder, ½ Tsp. Black Pepper Powder, 1 Tsp. Mixed Herbs & Finely Chopped Fresh Coriander Leaves. Mix Well.

After mixing well, add cottage cheese / paneer cubes to the mixture. Mix the cubes with the dry mixture to coat every cube with the mixture properly.

After coating the cubes, add 1 Tsp. Garlic Paste & Mix well. Dish out the cubes one by one in a plate after mixing with the garlic paste. Shake a little while taking the cubes out of the mixing bowl to let go off the extra coating.

A little dry mixture will be left in the mixing bowl after dishing out the cubes. We will make slurry with this mixture. Add 2 to 3 tbsp. water to this dry mixture. Mix well to ensure that no lumps remain. The consistency should not be too thick or too thin. Maintain medium consistency.

Now dip the coated paneer cubes into the slurry and coat every cube properly.

After coating with slurry put the slurry coated cubes into the crushed corn flakes. Make sure to coat the cubes with the flakes from all sides. After coating with the corn flakes dish them out in a plate.

Heat oil in a wok. The oil should be properly heated.

Fry the coated paneer cubes on medium to high flame. Fry them till they turn golden brown color. Take then out of the wok on a plate with a paper towel. Fry the remaining in a similar manner.

To make them tasty and spicy, to a mixing bowl, add 1 Tsp. Peri Peri Msala, 1 Tsp. Chat Masala & our fried paneer pops.

Cover the bowl with a plate and shake the mixing bowl to coat the paneer pops with the masala. Remember, do this while the pops are hot.

Our Crispy Paneer Pops are ready. Serve them hot with Schezwan Mayonnaise Dip. You can serve them with the dip or chutney of your choice.
Contact Chef: Payal Jethani
Tips:
After coating the pops with crushed corn flakes you can freeze then in an air tight container or a zip lock pouch. They do not go bad for 10-15 days.
Mix the fried paneer pops with peri peri masala and chat masala when they are hot else they lose the taste.
Goes well with: Serve hot with Tomato Ketchup, Instant Schezwan Mayonnaise Dip, Mint Coriander Chutney or a dip of your choice.