Today, we have a delightful and crispy Sindhi dish to share with you – the Sindhi Aloo Tuk. Sindhi cuisine is a treasure trove of flavors and textures that has largely remained unexplored outside its native region. One such culinary gem is Sindhi Aloo Tuk. This dish beautifully encapsulates the essence of Sindhi cooking. It is extremely simple and easy to make. Aloo Tuk is known for its captivating taste and bursting flavors. Hailing from the rich and diverse Sindhi cuisine, Sindhi Aloo Tuk is a simple yet incredibly flavorful dish that combines the humble potato with a medley of spices to create a crunchy, irresistible snack or side dish.
Sindhi Aloo Tuk, also known as Sindhi Aloo Fry or simply Aloo Ja Tuk, has deep-rooted origins in the Sindh region. In the Sindhi household it is served with lunch and dinner. It is served as a side dish with Sindhi Pulao and a combination of Bhuga Chawal and Sai Bhaji or Dal Chawal (Lentil & Rice) and a lot more. This Aloo Tuk can add to the taste of any of your meals.
The word "Tuk" in Sindhi means "pieces" or "chunks," which aptly describes the preparation method for this dish. Potatoes are cut into round and thick pieces and the preparation method is in two major steps. The trick to making perfect Sindhi Aloo Tuk is frying the potatoes twice and the Sindhi Aloo Tuk Masala Mix (Mixture of Spices). The same masala mix (Mixture of Spices) can be used in a variety of dry Sindhi dishes.
So let us embark of this flavorful and spicy Journey and let us learn How To Make Sindhi Aloo Tuk by Payal's Passion.
Click here to SUBSCRIBE TO THE CHEF PAYAL JETHANI'S YOUTUBE CHANNEL.
Click here to play the YouTube Recipe Video for Sindhi Aloo Ke Tuk.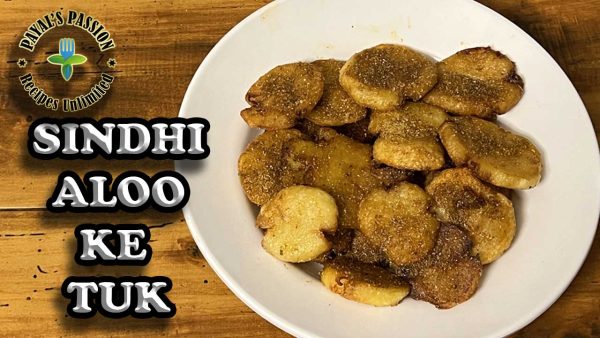 | | |
| --- | --- |
| | |
After the potatoes cool down a little we will flatten them with a flat bottom instrument like a wooden masher, a steel bowl of a glass. I have used a wooden dasher.

Flatten the potatoes using a wooden masher individually. Do not press too hard as we want to avoid breaking them.

Small cracks might show up during this process. These are natural and necessary.

Repeat the procedure with baby potatoes.
Preparing the Sindhi Aloo Tuk Masala Mix
To prepare the masala mix – add to a bowl, 2 Tsp Dry Coriander Powder, 1 Tsp Dry Mango Powder, 1 Tsp Roasted Cumin Seed Powder, 1 Tsp Red Chili Powder & 1 Tsp Regular Salt.

Mix well to merge the spice into each other.

After merging our Sindhi Aloo Tuk Masala Mix is ready.

This Sindhi Aloo Tuk Masala Mix can be used in a variety of dry Sindhi dishes like kurkuri bhindi, sindhi eggplant, sindhi arbi tuk, sindhi bhi ke tuk etc.
Coating the Aloo Tuk With the Masala Mix – Method 1
Arrange / Spread the deep fried potatoes on a plate so that they are clear of each other.

Sprinkle the Aloo Tuk Masala Mix, as per your taste, evenly on the potatoes in a good quantity.

After sprinkling the masala mix, pour 2 TBSP of the hot oil, from the oil the potatoes were fried in.

Pour this oil evenly on the potatoes. Make sure this oil is really hot.
Coating the Aloo Tuk With the Masala Mix – Method 2
In a wok on low flame, heat 1 TBSP oil. This is the same oil that the potatoes were fried in.

Now add the deep fried Aloo Tuk to the wok & sprinkle the Aloo Tuk Masala over the potatoes.

After adding the Masala Mix, mix the masala with the potatoes so that the potatoes are properly coated with the Aloo Tuk masala.

After coating the potatoes turn the heat off.

Dish out one potato at a time in a plate.

Our Sindhi Aloo Tuk are ready to be served. They can be served with any meal.
Contact Chef: Payal Jethani
Tips:
The Aloo Tuk are always fried in two steps. They are fried almost upto 80% in the first step. After the first frying they are flattened and deep fried again.
The magic of Sindhi Aloo Tuk lies in its unique seasoning, typically a blend of aromatic spices such as cumin seeds, coriander powder, red chili powder, and a hint of tanginess from dried mango powder or amchur.
The cracks while pressing the Aloo Tuk are natural and necessary.
Sprinkle hot oil on the potatoes after spicing them up using method 1. This oil should be really hot and should be the same oil in which we fried the potatoes
Goes well with: Specially Served with Bhuga Chawal and Sai Bhaji. It is also served as a side dish with the combination of dal chawal (Lentil and Rice) & Sindhi Kadi Chawal.