Bread or Pav is now an integral part of your breakfast and snacks. This recipe is a Traditional Sindhi Breakfast recipe. It is known by many names like the Sindhi Masala Pav, Sindhi Seyal Bread, Sindhi Seyal Dabal, Seyal Double Roti and a few more. In case you are wondering what exactly is double or dabal, then the answer is that bread is referred to as dabal or double in Sindhi language.
The recipe is simple and quick and requires bare minimum preparations and ingredients. Kids love this breakfast and is the fastest & the easiest bachelor recipe. The spices used are the ones commonly available in your kitchen. The mustard seeds add to the taste and aroma. Just the name of the dish waters my mouth. I am sure that once you taste this, you will add this to your list of breakfast recipes.
So without further delay let us start making these mouth-watering, delectable, succulent & yummalicious Sindhi Masala Pav.
Click here to SUBSCRIBE TO THE CHEF PAYAL JETHANI'S YOUTUBE CHANNEL.
Click here to play the YouTube Video Recipe for Sindhi Masala Pav.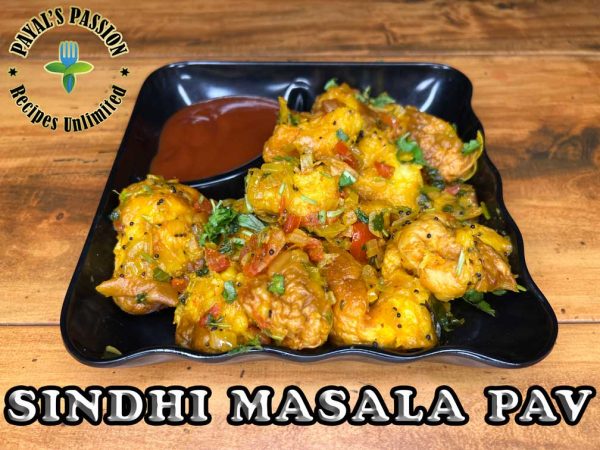 | | |
| --- | --- |
| | |
Break the pav bread into small pieces.

To a preheated wok, add 1 Tbsp. To the oil add, add 1 Tsp. Mustard Seeds / Rai. When the mustard seeds start to crackle, add Curry Leaves / kadhi Patta, 1 Finely Chopped Green Chili and 2 Finely Chopped Onions.

Cook the onions for approximately 2 minutes or till they turn light pink in color. Do not overcook the onions.

When onions turn light pink, add 2 Finely Chopped Tomatoes. Mix the tomatoes well with the onions.

After mixing well, add 1 Tsp. Salt, 1 Tsp. Turmeric Powder / Haldi Powder, 1 Tsp. Red Chili Powder / Lal Mirch Powder and 1 Tsp. Dry Coriander Powder / Dhaniya Powder. Mix all the spices well. Cover and cook on low flame for about 5 minutes.

After cooking for approximately 5 minutes, the masala is now cooked well. Using a spatula, mix and mash the masala a little. Now, add approximately 1.5 cups of water.

After adding water, turn the flame to high and add finely 1 Bowl Chopped Coriander Leaves / Dhaniya Patti. Leave a few for garnishing.

Let the masala water come to a boil. When the masala water starts to boil, add pav bread. Pav bread was broken into small pieces.

Mix the pav bread well with the masala so that the pav pieces absorb the masala well.

When the pieces absorb all the masala, cover and cook on low flame for 2-3 minutes.

After cooking for 2 to 3 minutes, our Sindhi Masala Pav is ready to serve.

Dish out in a serving bowl. Garnish with fresh coriander leaves.

You may serve it along with Tomato Ketchup or Green Mint and Coriander Chutney. Enjoy this delicious breakfast along with your friends and family.
Contact Chef: Payal Jethani
Tips: If pav bread is not available, you may use regular sliced bread.
Tricks: Boil the masala well so that the masala is properly absorbed by the pav.
Check Out: Other Sindhi recipes by Payal Jethani.
Goes well with: Serve with Tomato Ketchup & Mint Coriander Chutney or any other Dips & Chutneys of your choice.