Thai Corn Fritters rank among one of the first seasonal treats served & relished in Thailand when the summer corn begins to inundate the markets. Brimming with sweet & spicy goodness, you can find street vendors serving these thai sweetcorn fritters freshly fried up in huge batches.
Thai corn fritters recipe is a traditional Thai cuisine usually prepared from cooked corn kernels, pork or shrimp, rice flour, kaffir lime leaves, eggs & a good deal of spices. All the ingredients are thoroughly mixed, moulded into patties & deep fried in Canola Oil.
However, thai corn fritters has a vegetarian version too wherein tofu may be used in preparation. The vegetarian & easy corn fritters recipe is a blend of fresh corn kernels, red curry paste & rice flour.
This classic street food can be served as great appetizers or snacks when paired up with Thai Sweet Chili Sauce or chili vinegar dip.
Follow the instructions given below to learn how to make corn fritters at home. Kick-start extravagant weekend lunch, dinner or house parties with easy sweet corn fritters & surprise your family & guests.
Introduce this sweet corn fritters easy recipe to your friends. May you cherish it as much as it is cherished across the world! Have a happy meal.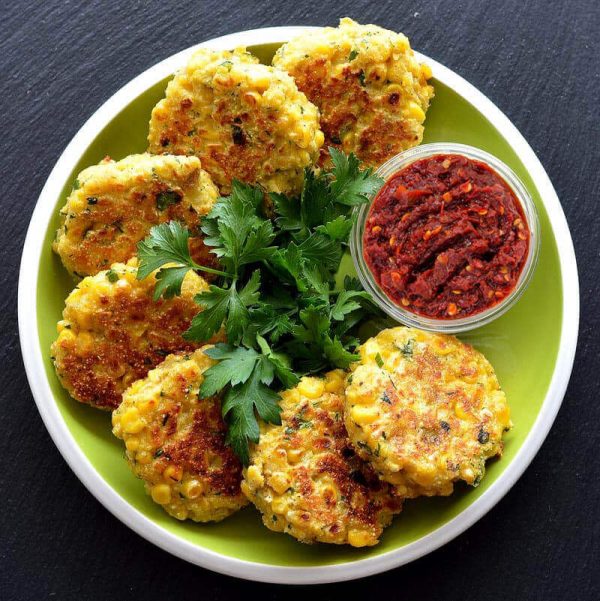 | | |
| --- | --- |
| | |
Take a food processor or small blender. Put half of the corn kernels, egg, rice flour, green chilies, salt & baking powder in it.

Blend until a batter of uniform composition is obtained. Transfer the mixture to a bowl.

Stack the kaffir lime leaves (or Thai Basil leaves) & roll them tightly. Slice the roll as finely as possible to obtain thin strips.

Now add the kaffir lime leaves strips & reserved whole corn kernels to the mixture in the bowl. Mix it well.

Preheat oil in a large pan for 2-3 minutes.

Gently drop a tablespoon of corn batter in to the oil. Flatten the batter to form a pattie shape. Avoid overfilling the pot.

Keep turning the fritters until evenly cooked & golden brown. Repeat until all fritters are cooked.

Stack the cooked corn fritters on paper towel to drain excess oil.

Serve hot with Thai sweet chili sauce or chili vinegar sauce.