When summer approaches & corns begin to flood the markets, Tod Man Khao Pod or baby corn fry are the first seasonal treats made in Thailand. You can find street vendors serving fresh baby corn fry recipe in huge batches.
The tod man khao pod recipe is a quick deep fry recipe that is prepared with baby corn, rice flour & a good deal of spices. The spices, ginger garlic paste, Thai red curry & rice flour are mixed together to form a batter. Baby corns are dipped into the batter & deep fried in edible oil until they are evenly golden brown, resulting in crispy baby corn fry recipe.
Try your hands on this easy baby corn fry recipe & serve it as starters on short notice house parties, an evening snack or a side dish for lunch or dinner.
These delicious vegetarian baby corn appetizers or snacks taste best when served with Thai Sweet Chili Sauce or house salad.
Introduce this classic baby corn fry recipe to your friends, along with a dip of your choice. Have a happy meal!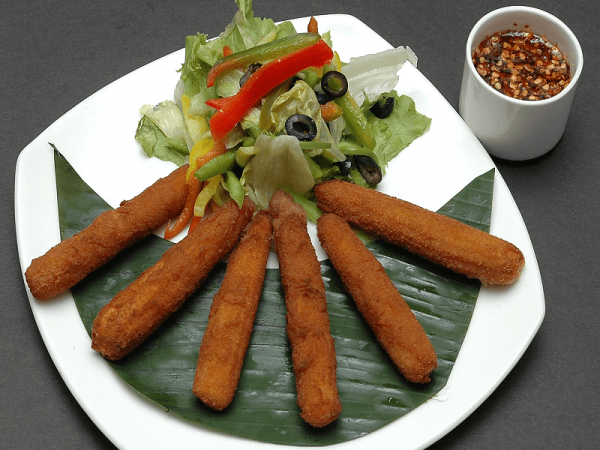 | | |
| --- | --- |
| | |
Boil the baby corns for around 2 minutes until they turn tender

Take a bowl & add Corn Flour, white pepper, ginger garlic paste, cumin powder & mix them well.

Now add salt, red chili powder, coriander powder & kaffir lime leaves to the mixture & mix it till a batter with uniform composition is formed. Add water if required.

Dip the boiled baby corn into the batter coating all the sides.

Preheat oil in a pan for 2-3 minutes.

Deep fry the baby corn until it turns crispy & golden brown.

Drain the fried baby corn on paper towel to soak excess oil.

Serve hot with house salad or sweet chili sauce.