The term Langar Wali Dal reminds us of Langar. Let me tell you friends what exactly is a Langar & why the langar wali dal. The Langar or popularly also called Guru Ka Langar is a concept that was given by Our first Guru Shri Guru Nanak Dev Ji in the year 1481. It was started by Guru Nanak Ji to preach the concept of equality amongst humans. Based on this concept the Langar or the community kitchen is still organized to feed people from all walks of life irrespective of the caste, creed, color, age, gender, or social status. Everyone contributes from cooking to serving and cleaning the utensils. This contribution is referred to as Seva or selfless service. The primary purpose was to make sure no one sleeps empty stomach & to preach sharing, love and oneness to all of humankind. I can go on and on.
A lot of you who have ever visited a Gurudwara have had food at Langar. The secret of Langar food is that it is cooked in cauldron (degs or daigs) on wood fire for a long time. All the ingredients are put together and cooked. The major spice that adds to the taste and aroma is the selfless service and love. One food that attracts a lot of us in the Langar is the Dal. This Langar Wali Dal is a speciality of North India especially Punjab, but is cherished all around the globe.  It is made with a mix of Channa Dal (Split Chickpea Lentils) and Kali Urad Ki Dal (Split Black Gram Lentils). The ratio of Channa Dal (Split Chickpea Lentils) and Kali Urad Ki Dal (Split Black Gram Lentils) is 1 is to 1.5. This recipe is a quick and easy one. It is best served with pickle, papad, raita, roti (Indian bread) & steamed rice.
So let us reveal the secret of this Langar Wali Dal without any further delays.
Click here to Subscribe To Payal Jethani's YouTube Channel.
Click here to play the YouTube Video Recipe for Authentic Langar Wali Dal.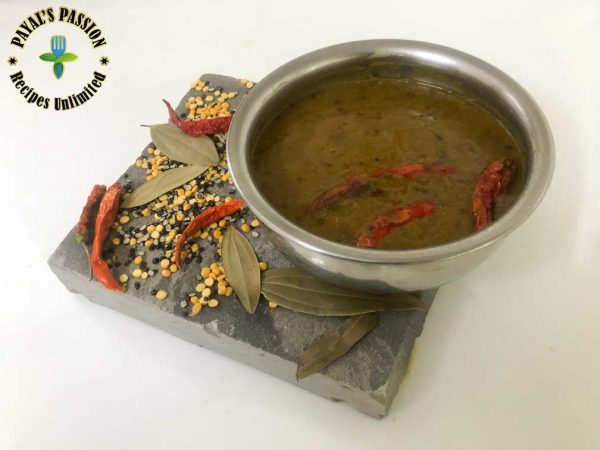 | | |
| --- | --- |
| | |
Mix and wash both lentils (dals) and soak for 10 minutes.

Heat clarified butter (ghee) in a pressure cooker.

Add asafoetida (hing), cumin seeds (jeera), bay leaves (tej patta), crushed garlic and green chilies. Saute for 5 seconds.

Add tomatoes, salt, red chili powder, turmeric powder (haldi) and dry fenugreek leaves (kasuri methi).

Saute for 5 minutes till the tomatoes are mushy and leaves the oil.

Add soaked Lentils (dals) & approximately 2 glasses of water.

Pressure cook Lentils (dals) for about 4-5 whistles on low flame.

After 4-5 whistles we will churn or blend the dal with dasher (Mathni). Do not use electric blender.

Add water while blending the dal according to required consistency.

After blending give it a good boil.

After a good boil pour the dal into serving dish.

For tampering / tadka, heat 1 Tbsp of clarified butter (ghee) in a pan.

Add whole red chilies halves into it & let them crackle.

Pour this tempering over the dal once the chilies crackle.

Dal is now ready to be served.

Serve with with Raita, Papad, Pickle, Roti & Steamed Rice.
Served With: Roti, Fresh Steamed Rice, Raita, Papad & Pickle.