This Rajasthani Besan ke Gatte ki Sabzi or Popularly also known as Rajasthani Gatta Curry, is a very special Rajasthani dish which is famous all over the globe. It is made with Besan (Gram flour), curd and some common Indian spices.
Rajasthan is a desert area and once upon a time fresh vegetables were not easily available. Thus, the Rajasthani cuisine enjoys more of Dals (lentils) and dishes made out of besan (gram flour), Jowar & Bajra (millets). Rajasthani Gatte Ke Sabzi is one such delicacy.
Gatta (singular) or gatte (plural) are basically gram flour (besan) roundels cooked in a yogurt based gravy.  There are three primary variations to the gravy recipe & multiple variations to the besan gatta recipe.
The plain yogurt /curd is the base ingredient to all the gatta gravy recipes. The main difference lies in the taste and the ingredients used. Following are the ingredients used in the three variants
First Gravy Recipe uses ginger, garlic onions & tomatoes.
Second Gravy Recipe uses only tomato (does not use, garlic & onion)
Third is the oldest and the best and does not use ginger, garlic, tomatoes or onions.
The second & the third variation are Jain Recipes & famous amongst the Jain community.
Gattas are either plain or stuffed. Gattas stuffed with Mava (Reduced Dry Milk) & Dry Fruits are called Govind Gattas. Gattas stuffed with Paneer (cottage cheese) are called Rajasthani Shahi Gatta Curry.
Rajasthani Gatta is best served with Dal Bati Churma, a signature dish of Rajasthan. They are also served with Roti (Indian bread), parontha (Indian bread), Steamed Jeera Rice & Rajasthani Mirchi Ke Tipore (Instant Fried Green Chili Pickle).
This Gatta Curry Recipe is the oldest, quickest & the easiest Authentic Gatte ki Sabzi Ki Recipe. The trick to making Soft Gattas is by using baking soda & plain yogurt /curd while preparing the Gattas.
If you don't have any vegetables left or your kids do not feel like eating veggies, you can simply make this amazing Gatte ki Sabzi.
So without Much Further Ado Let us Begin.
Click here to SUBSCRIBE TO THE CHEF PAYAL JETHANI'S YOUTUBE CHANNEL.
Hereunder is the YouTube Video Recipe for Rajasthani Gutta curry.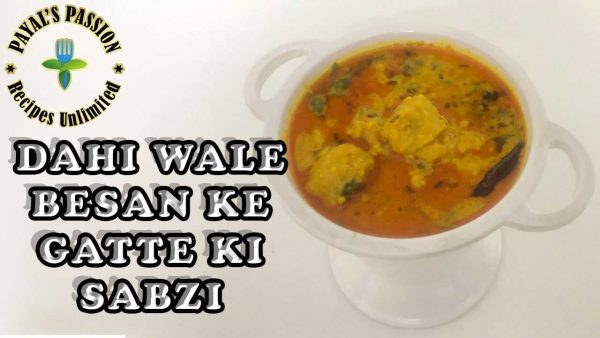 | | |
| --- | --- |
| | |
Cooking Instructions for Gattas
Add besan / gram flour to a bowl.

Add salt, red chili powder, haldi/turmeric powder, jeera/cumin seeds, dahi/yogurt, oil and baking soda to the bowl in Step1.

Using a little water knead a tight dough.

Divide dough into four equal portions.

Roll each part to a cylindrical shape on a flat surface.

Meanwhile boil some water. The water quantity should be good enough to dip the rolls in Step 5.

Add rolls to boil water and boil for 10-15 minutes.

After 10 -15 minutes of boiling take the rolls out. Do not throw the water left from boiling the gattas as it would be used in gatta gravy.

Cool down to room temperature and cut gatta rolls into roundels.
Cooking Instructions for Gatta Gravy
Add whisked curd / dahi to a bowl

Add salt, red chili powder, haldi/turmeric powder, Dhania/coriander powder and roasted besan/gram flour to curd / dahi.

Mix Dahi / curd and masala / spices well so there are lumps left.

Heat oil and ghee/clarified butter in kadhai / wok.

Add jeera/cumin seeds, hing / asafetida and whole dry red chilies to the wok and sauté them for 5-10 seconds.

Add ½ glass of water and turn off the stove to avoid curdling of dahi / curd and spice mixture.

Add dahi / curd and spice mixture and turn the gas on.

Stir continuously till the mixture boils.

When the mixture starts boiling, add gattas and remaining water from boiling the gatta rolls.

Mix well, cover and cook for 10-15 minutes on low flame.

After 10-15 minutes of cooking turn off the stove and Garnish it with fresh coriander.

Dish Out the Gatta Curry. Gatta curry is ready to serve with roti, rice and mirchi ke tipore.
Contact Chef: Payal Jethani
Tips:  
Tricks:
Served With: Fresh Steamed Rice, Papad & Mirchi Ke Tipore. Is also served with Dal Bati Choorma.