This Vegetable Keema Recipe, also known as the Veg Keema Masala, is a lip smacking and delectable dish from the Indian cuisine. It is also known as a life saver. Why?  Because if you go to a restaurant & are not able to make up your mind, you at least order this dish.
There are variations to the recipe but here is something that is simple to make. You can use seasonal vegetables. For now I have used, carrot, capsicum, French beans and a minimum of spices. You can serve this as a starter as well as a main course dish. It can be served with all kinds of Indian breads like roti, Butter Naan or paronthas. It tastes amazing with Pav (Pav-Bhaji).
This Easy Vegetable Keema Masala Recipe is also a keto recipe & it not only tastes amazing but is also filling at the same time. So whether you are on a diet or not, you would love this recipe and kids specially love this dish.
Click here to SUBSCRIBE TO THE CHEF PAYAL JETHANI'S YOUTUBE CHANNEL.
Click here to play the YouTube Video Recipe for Restaurant Style Vegetable Keema.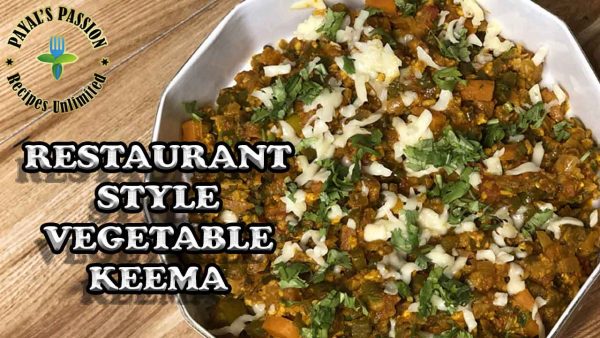 | | |
| --- | --- |
| | |
To a pre-heated pan, add 2 Tbsp. Clarified Butter/Ghee & 2 Tbsp. Cooking Oil.

When oil and ghee heat up well, add 2 Bay Leaves, 3 Green Cardamoms, 1 Black Cardamom, 5 Cloves and 8 To 10 Black Pepper Corns.

When the masalas start to crackle, add 2 finely chopped onions. Saute them on medium flame till the onions turn light pink in color. This would take around 5-7 minutes.

When the onions turn translucent and pink, add 2 Tbsp. Ginger Garlic Paste. Cook and stir them with onions together for about 1 minute till they are cooked well.

After cooking the ginger garlic paste with onions for 1 minute, add tomato puree. Cook the puree for about 5-7 minutes till it leaves oil and is well cooked.

After the puree is cooked well add ½ Tbsp. Salt, 1 Tbsp. Kashmiri Red Chili Powder, 1Tsp. Garam Masala, 1 Tsp. Turmeric Powder / Haldi, 1 Tbsp. Dry Coriander Powder / Dhaniya Powder and 1 Tsp. Chat Masala. Mix well and cook for about 1 minute.

After the spices are cooked well, add 2 finely chopped tomatoes. Mix well & add 1 Roughly Chopped Green Chili and ¼ Cup Yogurt. Mix well till the yogurt merges well with the masala. This would take about 30-40 seconds.

When the yogurt is mixed well, add 1 Cup Grated Cauliflower, ½ Cup Finely Chopped & Then Boiled French Beans & 1 Pcs Finely Chopped & Then Boiled Carrot (Capsicum will be added later as it cooks faster than the other vegetables).

Mix and mash the vegetables with a light hand and saute them for about 40-50 seconds.

After sautéing, add ¼ cup water and mix well.

Now cover and cook on low flame for about 15 minutes.

After 5 minutes of cooking, add 1 finely chopped capsicum and mix well.

After mixing the capsicum cover and cook the vegetables for the remainder of 10 minutes.

After cooking for 15 minutes, add ½ Cup Grated Cottage Cheese. Mix well till it merges well.

Cover and cook for 5 more minutes on low flame.

After cooking for 5 minutes, add grated cheese. Save some for garnishing later. Mix well.

Finally, add Fresh Coriander and mix well. Turn the Flame Off.

Our Vegetable Keema is ready. Let us now dish it out.

Garnish the Keema with our remaining grated cheese and fresh coriander. The quantity of cheese may depend on your choice.

Our Vegetable Keema is ready to be savored. Serve with Roti, Butter Naan, Parantha or Pav.
Contact Chef: Payal Jethani
Tips: Add capsicum after adding the carrot, beans and cauliflower as capsicum cooks faster as compared to the other vegetables used. You can use vegetables of your choice.
Goes well with: Serve with Roti, Butter Naan, Parantha or Pav.