Imli Ki Meethi Chutney or Sweet Tamarind Chutney is also known as Saunth ki Chutney or sonth ki chutney (सौंठ की चटनी) as this chutney is spiced with ground ginger powder. Tamarind is known as IMLI in Hindi. This Imli Ki Chtuney or Tamarind Sauce is a mixture of flavors. It is spiced, sweet and tangy at the same time and is served with evening snack like Indian chaat, samosa, kachori & pakoda (pakodas).
This is an age old recipe of every Indian household. Slight variations exist in the recipe which primarily arise because of the change in the method of making at different locations and family recipes. For example people add anything from melon seeds to dry fruits and a lot more. Nonetheless, this is a lip smacking and finger-licking tasty chutney.
The main ingredient is Tamarind Water. To add to the taste you can add dried julienne ginger and raisins during the final stage of boiling. The chutney is thick in consistency and has a smooth texture. The sourness of the tamarind is equated with the sweetness from jaggery (Indian unrefined sugar made from sugarcane juice. The chutney is spiced up mildly with dry ginger powder, cumin, garam masala and red chili powder.
It is used from north to south and east to west. It is the main condiment to Dahi Vada and the main ingredient to the world famous Behl Puri, papri chaat, aloo chat & sev puri.
Click here to SUBSCRIBE TO THE CHEF PAYAL JETHANI'S YOUTUBE CHANNEL.
Click here to play the YouTube Video Recipe for Saunth ki Chutney or Meethi Imli Ki Chutney.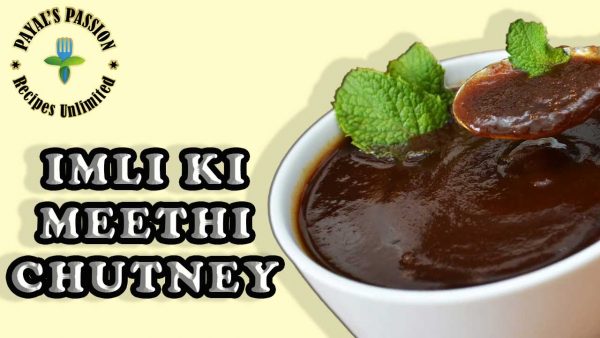 | | |
| --- | --- |
| | |
To a pan, on medium flame, add 2 Cups of Tamarind Water / Imli Ka Pani, 1 Cup Jaggery, ½ Tsp. Regular Salt, ½ Tsp. Rock Salt / Kala Namak, 1 Tsp. Red Chili Powder / Lal Mirch Powder, 1 Tsp. Dry Ginger Powder / Saunth Powder, 1 Tsp. Garam Masala and 1 Tsp. Cumin Powder / Jeera Powder. Mix well and boil on medium flame till the jaggery melts and dissolves completely in the tamarind water. Keep stirring in between.

When the jaggery / Gur dissolves completely in the tamarind water, add 10-15 Raisins and 3 Chopped Dates. Boil for another about 10 minutes so that the chutney thickens.

After 10 minutes of boiling, the chutney has now thickened. I have used dry ginger powder / saunth powder. You can use dried julienne ginger instead. The chutney is now ready.

Turn the flame / heat off & dish out the chutney in a bowl. Let the chutney cool down to room temperature.

After the chutney cools down to room temperature, store it in a clean & dry container and refrigerate. It stays good for months when refrigerated.

Our sweet and savoury Imli ki Chutney is ready. Relish its flavour as a condiment/dip with chat Pakoras, Samosas, Kachoris, Dahi Badas, Bhel Puri and many more.
Contact Chef: Payal Jethani
Tips: You can use Dry Julienne Ginger instead of dry ginger powder / Saunth Powder. Add 1 Tbsp. of Dry Julienne Ginger during the final few minutes of boiling to enhance the taste of the Chutney.
Tricks: Refrigerate to use for months.
Goes well with: Serve with chat Sindhi Sanna Pakoras, fritters / pakoras, Samosas, Kachoris, Dahi Badas, Bhel Puri and many more.