In the long list of Dips, Chutneys and Condiments, one Dip that ranks amongst the top 10 is the Hummus. Its roots can be traced to ancient Egypt. The word hummus means chickpeas in Arabic.
As the name suggests it is made with minimum simple ingredients i.e. Chickpeas, Garlic, Olive Oil, Lemon Juice, Salt and Water. Tahini, which is another dip made out of sesame seeds, is also added to the traditional recipe. Here however, we are not going to add tahini and it would still taste amazing. I would add the Tahini Recipe later with the details of the recipe of Hummus using Tahini.
It is one of the most wonderful dips and is served with a variety of starters and main course Arabic dishes like shawarma, pita bread, Khaboos & lavash bread. You can serve hummus with a variety of other snacks and starters like the nachos, tortillas and a lot more. The best part is, you can make it in 5 minutes and the secret is grinding the ingredients properly in the mixer.
So without further delay let us start making this delectable, easy, mouth-watering & toothsome Hummus.
Click here to SUBSCRIBE TO THE CHEF PAYAL JETHANI'S YOUTUBE CHANNEL.
Click the play button to play the YouTube Video Recipe for Easy Homemade Hummus.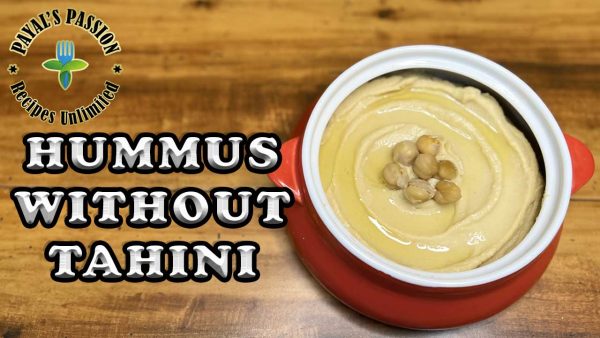 | | |
| --- | --- |
| | |
To a mixer jar add 1 cup boiled white chickpeas, 6-8 cloves of garlic, lemon juice from 1 lemon, 1 Tsp. Salt, 2 Tbsp. Olive Oil & about ¼ cup of water.

Cover and grind. After grinding for about 10-15 seconds, check the consistency. If the need be, add a little more water and grind again.

This would take around 1.5 to 2 minutes. Grind till you get a smooth and creamy paste.

Dish Out in a serving bowl. Make spirals on the surface of using the back of a spoon.

Pour the remaining 1 Tbsp. of Olive Oil on the Spirals & garnish with a few pieces of boiled chickpeas.

Our Hummus is ready. Serve with Lavash Bread, pita bread or your choice of chips or crackers.