Creamy Cheese Corn Palak is a delectable and easy to make dish. This is a quick and easy recipe to make at home. It has three most nutritious and most tasty ingredients i.e. Cheese, Sweet Corn & Palak or Spinach. It uses simple spices like crushed black pepper, chili flakes, oregano mix & salt.
This recipe is also referred to as Creamy Corn Palak Ki Sabzi. This recipe provides nutrition in a delectable manner. Spinach is a great source of vitamin K, A, B6, Calcium & Manganese, etc. It strengthens our bones, immunity and enriches our skin and hair. It is also beneficial for people with asthma, diabetes, and heart diseases. It is also considered to be an important part of diet in pregnancy.
The total cook time is not more 20 minutes apart from the prep time which requires gathering of the spices and finely chopping Spinach, Onions, Tomatoes & Garlic.
So What to eat with Cheese Corn Palak?
Well, Cheese corn palak is best served with Tandoori Roti, Naan, or garlic bread. Kids would love this dish.
Click here to SUBSCRIBE TO THE CHEF PAYAL JETHANI'S YOUTUBE CHANNEL.
Click the play button to play the YouTube Video Recipe for Easy Cheese Corn Palak.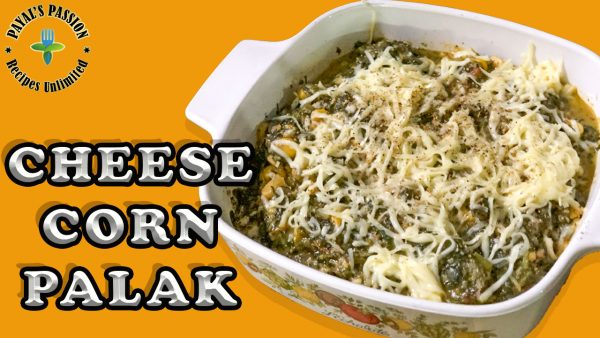 | | |
| --- | --- |
| | |
Add oil and butter in a pan on medium flame.

Add chopped garlic and sauté for 30-40 seconds till they become slightly brown.

After sautéing garlic add onion and sauté for 1 minute on medium flame.

After sautéing the onions, add tomatoes and mix tomatoes and onion properly.

Add salt, black pepper powder and chili flakes and mix well.

Now, add boiled sweet corn and mix it with onion and tomatoes.

After mixing, add finely chopped spinach and mix well with the onion & tomato masala.

Now cover and cook for 8-10 minutes on medium flame. Cooking over medium flame will shrink the spinach a little & it will be easier to mix the spinach with masalas.

After cooking for 8-10 minutes, the spinach will shrink and leave water. Mix well with the masala and cook for another 5 minutes on medium flame till the water evaporates.

When the water almost evaporates add half cup of cottage cheese and mix well.

Now, add half of the quantity of grated cheese and keep the other half for garnishing. Mix well everything and cook for 5 more minutes on medium flame till remaining water evaporates.

After cooking for 5 minutes turn the gas off and dish out in a flat bottom dish.

Garnish cheese corn palak with remaining grated cheese, black pepper and oregano mix.

Microwave the dish for 1 to 1.5 minutes to melt the cheese sprinkled over the dish for garnishing. Cheese corn palak is now ready to serve.
Contact Chef: Payal Jethani
Tricks:  Oil & Butter are added together to avoid the burning of butter while cooking
Goes well with: Roti, Naan, Parantha and Garlic Bread