Mughlai Mutton Stew is a delectable North Indian curry recipe prepared with mutton, onion, ginger, garlic, curd & mélange of spices. This Stew Recipe is one of the most sought after Mutton Recipes. This renowned delicacy holds its origin from the Mughlai cuisines. It is savored with delight, especially in Northern parts of India, Punjab, Rajasthan and Pakistan.
It is necessary to understand what Stew Means. To stew is to slowly cook your food over low flame or heat with spices. This results in a in a soup-like food called stew. You can stew vegetables too. Traditional non-vegetarian recipes require prolonged cooking of spices before adding mutton or chicken to the spices. However, in the Authentic Mughlai Stew Recipes, especially the Old Delhi Style Mutton Stew Recipe, the mutton or meat, is cooked on low flame along with the whole spices for a long time over low heat or flame. Thus it is also referred to as Sabut Masale Ka Stew or the Khara Masala Ghost. This Khara Masala Ghost is an Eid special.
It is an easy recipe yet takes time to cook and the outcome is flavorful, tender, succulent & Spicy mutton stew.
What to eat with Mughlai Mutton Stew? This delectable dish is served with Tandoori Roti, Naan, Khameeri Roti & Steamed Rice. Amazingly this is also a superb Keto chicken recipe. You can include this dish as a part of your keto diet plan for weight loss. This dish proves that Keto recipes can be flavorful and tasty. Without much further ado, let us cook this Homemade Mutton Stew Recipe.
Click here to SUBSCRIBE TO THE CHEF PAYAL JETHANI'S YOUTUBE CHANNEL.
Click here to play the YouTube Video Recipe for Mughlai Mutton Stew.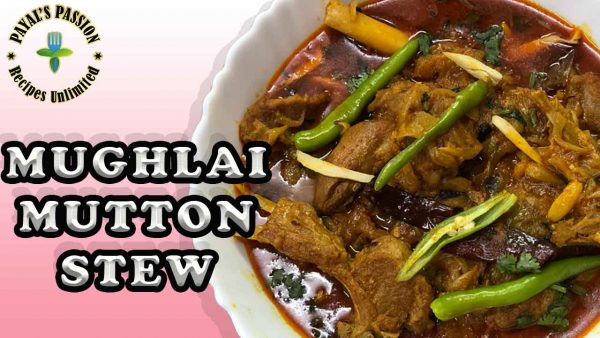 | | |
| --- | --- |
| | |
On Medium Flame, heat 4 Tbsp. Clarified Butter / Ghee in a pan.

When the clarified butter heats up, add 1 Tsp. Cumin Seeds, 2 Pcs Bay Leaves, 1 Pcs Mace / Javitri, 8-10 Pcs Black Pepper Corns, 3 Pcs Green Cardamom, 4 Pcs Cloves, 1 Pcs Black Cardamom / Badi Elaichi, ½ Pcs Nut Meg / Jaifal & 1 Pcs Small Cinnamon Stick.

Saute the whole spice for 30 to 40 seconds so that they start giving a good aroma.

After sautéing add 2 Pcs Whole Dried Red Chilies (Cut in Halves). Saute the dried red chilies for 5 to 10 seconds.

After sautéing the red chilies add, 2 Pcs Green Chili (Cut Lengthwise), 2.5 Inch Ginger Piece (Julienne Cut) & 15-20 Pcs Garlic Cloves. Saute them with the whole spices for about 1 minute.

After sautéing add roughly chopped onions. Mix well & cook the onions with the whole spices for about 5 minutes on high flame.

After cooking the onions for 5 minutes add ½ Tbsp. Salt, 1 Tbsp. Coriander Powder, ½ Tbsp. Turmeric Powder / Haldi Powder & ½ Tbsp. Red Chili Powder.

Mix well till all the onions are properly mixed with the spices.

After mixing the spices with the onions add mutton pieces. Till this point all the cooking will be done on medium flame.

Mix the mutton pieces well with the spice coated onions.

After mixing the mutton pieces with the spices add 250 Grams Curd / Yogurt / Dahi. Mix well with the mutton and spices. Mix the curd till the curd merges with the onions and mutton pieces.

Cover and cook for about 1 hour (or till the mutton gets tender) on low flame. Keep checking in between. The first check should be ideally around 20 minutes.

After 20 minutes the mutton will leaves juices. Stir once to make sure the mutton does not stick to the bottom of the pan. After first 20 minutes cover and cook for another 40 minutes. Keep checking in between.

The mutton is ready after 1 hour of cooking. Switch off the gas.

Add finely chopped fresh coriander leaves and mix well.

Dish out in a bowl & garnish with length cut green chilies & julienne cut ginger.

Serve with Tandoori Roti, Khameeri Roti, Naan or steamed rice.
Contact Chef: Payal Jethani
Tips: Mix onions with the spices till every onion is properly coated with the spices. A thick bottom pan is preferred. When cooking on low flame keep checking in between to ensure that the mutton does not stick to the pan bottom.
Good to Know: Regular mutton or chicken recipes require cooking of the spices before adding mutton or chicken pieces. However, in this traditional stew recipe, instead of cooking the spices, the mutton pieces are cooked along with raw spices for a long time on low flame. The mutton or chicken cooks in its own broth and spices on low flame. Fun fact we do not use any water to cook mutton.
Goes well with: Serve with Tandoori Roti, Khameeri Roti, Naan or steamed rice.