Mac or Macaroni and Cheese are two things than can be used to make a variety of dishes. This Mac and Cheese Recipe is one of the easiest evening snack that you can make for everyone at home. This is a super quick and easy snack. Mac & Cheese Nuggets or as it is also known as mac & cheese balls or mac & cheese bites is a super delicious cheesy snack that can be made from fresh boiled macaroni or with left overs. Either ways it a snack that your kids will love at home and would end up asking for more.
This is something I prepared as an appetizer to my luncheons and dinners and as a filler evening snack for my kids. It is served hot with ketchup and Mayonnaise based Jalapeno dip. You can also serve this with sweet chili garlic Tha sauce or any other dip of your choice.
You can find other dips and sauces in my video channel. So let us start making this lip-smacking, mouth-watering, finger licking & Super Easy Recipe at Home.
Click here to SUBSCRIBE TO THE CHEF PAYAL JETHANI'S YOUTUBE CHANNEL.
Click Here to Play the YouTube Video Recipe for Mac-N-Cheese Nuggets.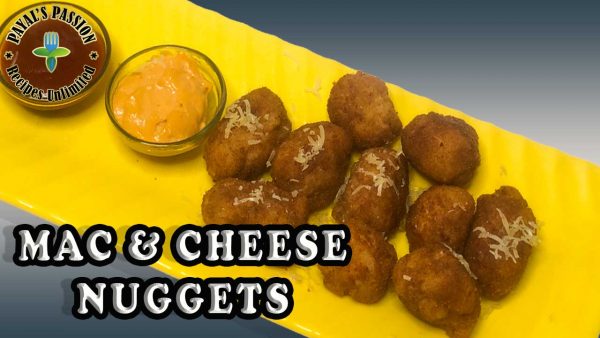 | | |
| --- | --- |
| | |
Heat 1 Tbsp. Butter in a non-stick pan.

When the butter starts melting, add 2 Tbsp. All Purpose Flour / Maida.

On medium flame cook the butter and all-purpose flour for about 1 minute. Make sure to keep stirring using a spatula during this process.

After cooking for about 1 minute, add 3/4th cup milk. Cook for 3 to 4 minutes & stir continuously. Cook till no lumps remain and it thickens.

After the mixture thickens, add 1 tsp. salt, ½ tsp. black pepper powder/ kali mirch powder, ½ tsp. maggi masala & 1 tsp. garlic powder. You can use crushed garlic too instead of the garlic powder.

Mix the spices well into the mixture and add 1.5 Cup boiled macaroni.

Mix well and cook for about 1 minute.

After cooking for 1 minute, add ½ cup grated cheese, mix well and cook for another 10 to 15 seconds.

After cooking for 10-15 seconds, turn the heat off and let it cool down to room temperature.

Mix 2 tbsp. all-purpose flour in half a cup of water and mix well to prepare a slurry. The consistency should be neither too thick and neither too thin. Pour the bread crumbs in a plate to coat the nuggets.

Now from the cooked macaroni, pinch as per the required nugget size. Shape then nuggets in your hands and dip the nuggets in the slurry properly.

After dipping in the slurry, coat the nuggets with bread crumbs properly. Prepare the rest of the nuggets in the same manner.

Heat oil in a wok. On medium flame, fry the nuggets in the oil till they turn crisp and golden brown in color.

Garnish with grated cheese and serve with tomato ketch and mayo based jalapeno dip.
Contact Chef: Payal Jethani
Tips: After coating the nuggets with bread crumbs, you can freeze them for later use. They do not go bad for 10-15 days,
Goes well with: Serve with tomato ketchup, Instant Schezwan mayo dip, mayo based jalapeno dip, mint coriander chutney or any other dip of your choice