There's nothing better than a hot bowl of soup in winters. This recipe is not the Cream of Mushroom Soup Recipe. It is a healthy soup recipe with No Cream. It's insanely delicious & packed with nutrients and can be prepared in less than 20 minutes. This is a tantalizing mushroom soup recipe is not only filling but really good for your health and immunity & is an easy soup recipe.
White mushrooms are very low in calories & they have multiple health benefits. They are good for hearth and are loaded with cancer fighting properties. They are extremely low on carbs & thus find their place in the keto recipes. Besides from being an important ingredient for the prescribed Keto diet they are loaded with Vitamin D. Thus preventing osteoporosis & building muscles.
Super easy to make it from scratch, throw together just a few ingredients and then you get a bowl of warming and comforting soup in no time. Forget canned soup loaded with salt and preservatives, this homemade soup is packed with goodness and big flavors, you will love it!
Click here to SUBSCRIBE TO THE CHEF PAYAL JETHANI'S YOUTUBE CHANNEL.
Click here to play the YouTube Video Recipe for Healthy Mushroom Soup.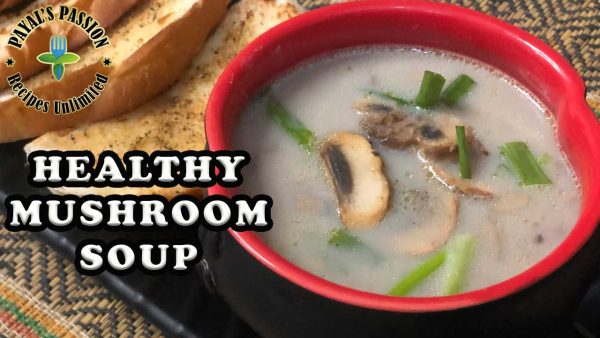 | | |
| --- | --- |
| | |
We will divide our mushrooms in two equal portions. Half of the mushrooms will be used to prepare a puree along with onions and the other half will be finely chopped. A single piece of mushroom will be finely sliced and sautéed for garnishing.

For preparing the puree, cut one half of the mushrooms and onions into halves and put them in a grinder. Add 1/4th Cup water. Grind to make a fine puree. Our puree is ready.

Heat 1 Tbsp. Butter in a wok or a pan on medium flame.

When the butter start to melt, add finely chopped mushrooms. Saute to caramelize the mushrooms to a light brown color.

After caramalization, add the mushroom and onion puree. Cook for about 5 minutes on high flame. Keep stirring in between.

After the puree is cooked well, add 2 cups of water and 1 cup milk.

After adding milk, season with ½ Tsp. Salt and ½ Tsp. White Pepper Powder. Mix well and let it come to a boil.

After the first boil, turn the heat / flame to low and boil for another 10 minutes.

After boiling well for 10 minutes on low flame, turn the heat off.

Dish out the soup in soup bowls and garnish with sliced mushroom & spring onions.

Our soup is ready. Serve hot with garlic bread, soup sticks or bread croutons. If you're on a Keto Diet, enjoy without bread.
Contact Chef: Payal Jethani
Checkout: Other soup recipes in the soup section
Goes well with: Serve hot with bread, soup sticks or bread croutons.