Jungli Maas is a rustic mutton cuisine cooked in a traditional Rajasthani style. Rajasthani jungli maas recipe is also eminent as the recipe of the hunters & its invention was the need of the hour.
The origin of authentic Jungli Maas can be traced back to pre-historic times when kings went out on hunting expeditions.  Rajput royalty were keen hunters and carried bare minimum supplies reckoning the difficulty to carry lot of ingredients while hunting. Few of these supplies were salt, whole chilies & clarified butter.
Depending on the day's catch, a delicious recipe was prepared right in the jungle by skinning & cleaning the hunt. Jungli Maas since its inception has evolved over time & enjoys huge reputation. The basis of authentic Rajasthani Maas however remains the same: a camping meal, made with mutton, wild boars, lamb etc.
Even with minimum spices, the appealing texture, the lip smacking flavors & mouth watering aroma of the cuisine will leave you lick your fingers.
Here is the authentic version of Jungli Maas recipe!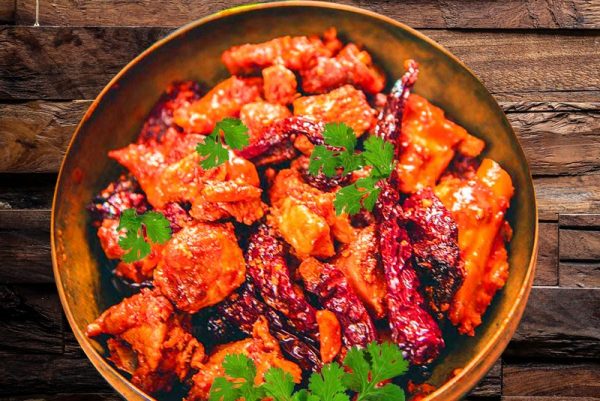 | | |
| --- | --- |
| | |
Cooking Instructions:
Clean and wash the mutton nicely.

Place the heavy base sauce pan on the gas stove and add ghee to it.

Pre-heat the ghee for few minutes. When it is hot, place dried red chilies broken into two pieces in the pan.

Sauté the chilies for approximately ten seconds.

Place mutton in the same pan & add salt to it according to taste.

Allow it to cook for 10 minutes.

Add water to it above the level of the mutton.

Simmer the gas and cover it with the lid until the water dries out.

When the water dries up, check if the mutton is tender, if not add some more water till the mutton is tender & evenly cooked.
Plating Instructions:
Serve hot in a serving bowl and garnish it with a dash of coriander.
Goes well with:
Chapati & other Indian Breads like Naan, Parotta etc
Contact Chef: Payal Jethani
If you like this recipe, you can also try other Mutton recipes such as :