Crispy Potato Cheese Fingers or popularly known as Crispy Cheese Sticks is an amazingly easy to make snack at home. Kids love this snack and is a good to know appetizer recipe. Snack & Appetizers are an inseparable part of every cuisine. Dips & Chutneys have always accompanied the snacks. Dips & Chutney add to the taste of the snack. It uses minimum ingredients and least efforts. Served hot with Sweet Chili Garlic Sauce, which is a Thai cuisine, & mayonnaise.
It is must know recipe for your kids and to add to the list of starters to your parties and gatherings. Up until now, these recipes were restricted to the kitchens of the restaurants but here we will reveal the easiest method of preparing this amazingly tasty & delectable snack at home. So how to make cheese sticks?
Well, we will not keep you waiting from this mouth water dish. We have also included the video recipe below by the Chef Payal Jethani.
Here is the YouTube Video Recipe. To subscribe to the Chef's Video Channel, click here.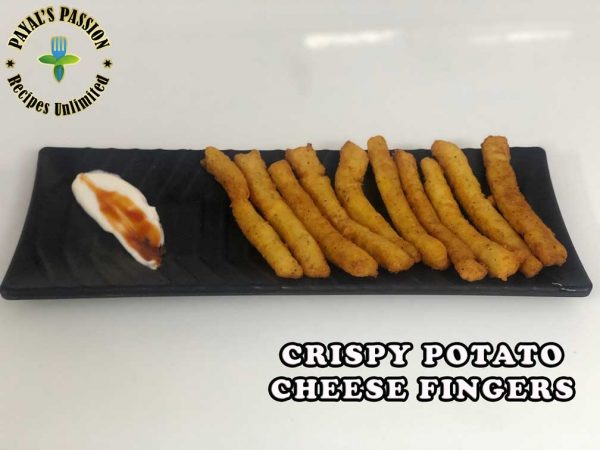 | | |
| --- | --- |
| | |
Put all the ingredients in a bowl i.e. mashed potatoes, corn flour, grated cheese, salt , black pepper powder and garlic powder.

Mix well to prepare a dough like mixture. Corn flour will act as a binding agent in this mixture.

Brush coat a tray with oil.

Rub little oil in your palms. Pinch a good quantity of mixture.

Roll the mixture using roller pin making sure that the thickness of the roll is about ½ an inch.

Cut sides to form rectangle or square. Remove the extra mixture as shown in the video above.

Cut strips from the rolled mixture.

Pre-heat oil in the wok or kadhai. Deep fry 3-4 stripes at a time on medium flame till they turn golden brown.

Serve hot with mayonnaise and sweet chili garlic sauce.
Tips: Always serve hot with sweet chili garlic sauce, mayonnaise, coriander chutney or any other dip or chutney of your choice. Remember they will not taste good when cold.