Classic Coleslaw is a light, tangy & creamy salad featuring fresh & healthy ingredients. Bursting with flavors & nutrition in each bite, it is an easy to make lip smacking salad prepared by shredding raw cabbage & tossing it with a salad dressing that commonly comprises of either vinaigrette or mayonnaise.
The origin of this succulent traditional coleslaw recipe can be traced back to ancient Roman times where the basic version of coleslaw was consumed that comprised of shredded cabbage dressed with vinegar, eggs and spices. The term Coleslaw is derived from the Dutch term koolsla, meaning cabbage salad. Kool in Dutch means cabbage and sla is a Dutch abbreviation for salade. Nowadays, slaw refers to any type of shredded salad.
Wonderful with fried chicken and barbecued meats, Coleslaw is also deemed as a popular accompaniment to French fries or potato salad. It may be used as a sandwich ingredient, being placed on barbecue sandwiches, hamburgers, and hot dogs along with chili and hot mustard.
The sweet creamy coleslaw recipe, besides being luscious is also incredibly nutritious. Cabbage being the main ingredient of this healthy coleslaw recipe has various alimentary benefits. Cabbage coleslaw recipe is deemed as a nutritional powerhouse, loaded with Vitamin C & myriad of other minerals that boost the immune system, reduce inflammation, fights cancer by inhibiting tumor growth.
Delicious with barbeque, this classic creamy coleslaw recipe is super-easy & make-ahead salad for summer picnics and cookouts! Let us take a peek at the instructions on how to make best creamy coleslaw salad recipe with simple, healthy ingredients!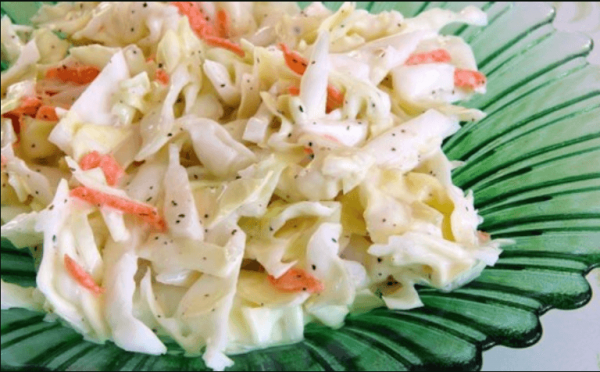 | | |
| --- | --- |
| | |
Shred or Grate Cabbage & Carrot: Wash the vegetables & peel it. Slice the vegetables into thin shreds through a food processor or shredding blade. Transfer the shredded vegetables to a large bowl.

Squeeze the vegetables well to separate the moisture.

Toss the vegetable ingredients to combine & mix well.

Prepare the Dressing: Place all the dressing ingredients i.e. vinegar, mayonnaise, sugar, salt and pepper in a small bowl & whisk to combine. Taste and season with more salt, sugar, or vinegar as needed.

Toss the Slaw with Dressing: Pour the dressing over the shredded vegetables. Toss gently to combine & ensure all the shreds are coated evenly.

Refrigeration: Cover & refrigerate Coleslaw for at least 1 hour before serving. Toss occasionally to keep the dressing distributed over the vegetables.

Note: The flavor & texture of Coleslaw is the best the day it is made. The salad however still keeps well for several days in the fridge. For extra creaminess, reserve the dressing & drizzle it over the top of the slaw, or fold an extra spoonful of mayo into the slaw just before serving.