Mac Optimization Utility – MacRapidizer
Mac users! A good news for you!
The Latest cleaning Utility for Mac is finally available on Apple App Store! MacRapidizer developed by AAVSTRA Software Private limited is out now! This Mac Cleaning software underwent thorough scrutiny by Apple Technical Experts before making its way on the Apple App store.
Here is the official website link: https://www.macrapidizer.com/ 
Developed for Mac users using OSX 10.10 & above, this utility was designed basis the real time Mac maintenance & cleaning issues faced by Mac Users. MacRapidizer have a bunch of utilities for the users who care of their Mac and want to optimize it regularly! The Easy to understand Interface provided by the company is getting popular amongst Mac users slowly but gradually!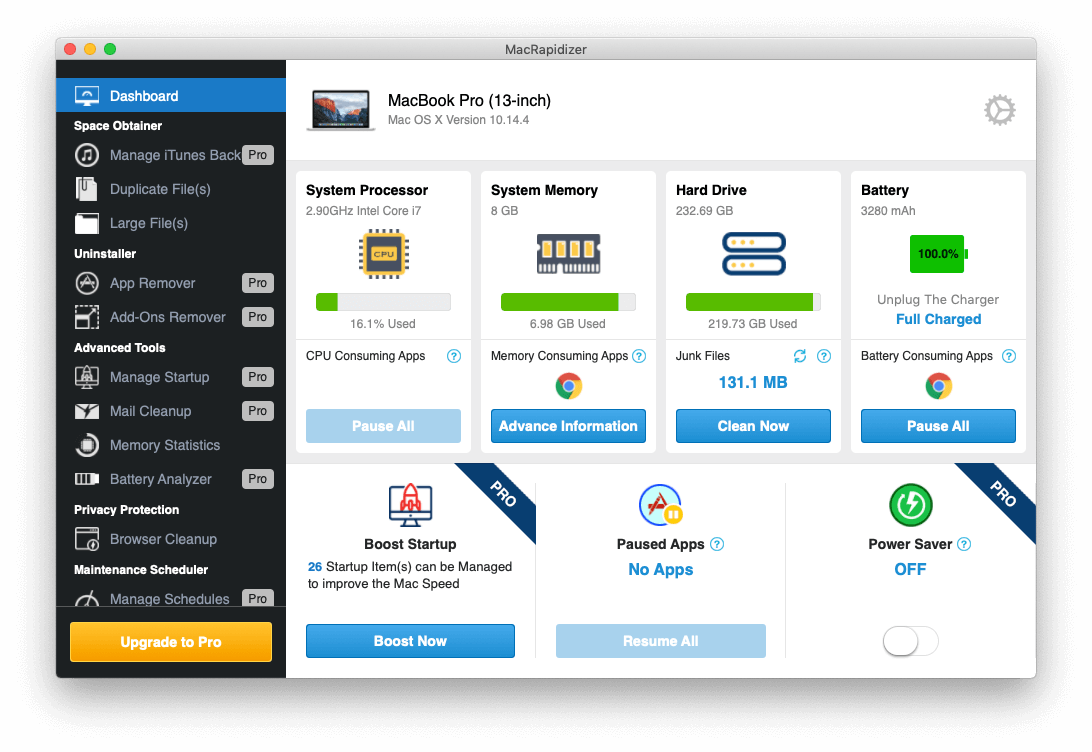 Here is a glimpse of MacRapidizer and what's in it for Mac Users!
Easy Interface.
Dashboard overview of your Mac
Pause/Resume or Close

CPU Consuming Apps.
Memory Consuming Apps.
Battery Consuming Apps.

Space Management:
Customized Scan and Selective Deletion for:
Duplicate Files from your Mac (Music, Picture, Video, Archives, Document & other files)
Unwanted Large Files from your Mac (Music, Picture, Video, Archives, Document & other files)
Browser Cleaning

Remove Browser History.
Delete Browser Cache to Save Drive Space.
Delete Internet cookies from your Mac.

Battery Analyzer to check Live battery statistics with Battery Health
Dark Mode Support for OS X Mojave
Premium Features Include
View and delete iTunes Backup(s) to recover drive space.
Mail Cleanup
App Remover to remove unnecessary apps from your MAC
Remove Unwanted Add-ons
Manage System Startup Apps, Background Services & Daemons (Installed by Third Party Apps) to Reduce Startup Time
Enable Power saving Mode
Automatic Cleanup Scheduler
Sounds Good! Doesn't it?
The Journey for this Mac Optimization tool was not easy though! MacRapidizer developers remained resilient and kept on upgrading the app as per the industry standards and suggested changes.
The time lost in this Introspection was bitterly used by Professional Rivals who left no stone unturned in ensuring a bad image for MacRapidizer. Rivals Cyber squatted the domain name with a fake app already under detection by leading technical security giants. These actions acted as Hurdles for MacRapidizer, but, as they say, you can never stop the truth, MacRapidizer is gaining the trust of users and is aiming to conquer the market!
The Moral of AAVSTRA Software is high as they have other projects in development for all platforms! With the Launch of their first Dream utility MacRapidizer, AAVSTRA team have set the eyes on the Sky!