Seviyan ki barfi or Vermicelli barfi, is a unique yet simple dessert recipe perfect any festival. Today, specially when getting things from outside is no less than a night out in a jungle, everyone would want to make desserts at home. The key is quick, instant & easy recipes with minimal of ingredients. This tasty and delicious mithai is very easy to make. You can make this barfi with ingredients available at your home.
Seviyan or Semiya, also known as Vermicelli, is one of the thinnest forms of spaghetti. Vermicelli is a key ingredient to a lot of sweets on Diwali, Eid etc. It also acts as a great accomplice with Kheer most commonly known as Seviyan Ki Kheer. Different recipes like Seviyan Namkeen, Vermicelli Upma etc.
People all across India relish the Vermicelli pudding or Sewaiyon ki kheer. It is one of the favorite dessert of millions of Indians.
This Seviyan ki barfi is not all like usual barfis. This sweet dish is crunchy and delectable. It is completely homemade and absolutely mouth-watering. Believe me, this mithai will leave everyone who tastes it awe struck. Without much talking, let's get going Second Title: Vermicelli Dessert.
Click here to SUBSCRIBE TO THE CHEF PAYAL JETHANI'S YOUTUBE CHANNEL.
Click Here to play the YouTube Video Recipe for Quick & Easy Seviyan Ki Barfi.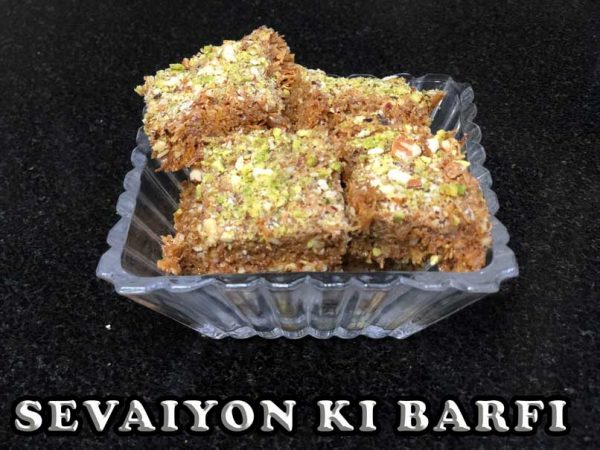 | | |
| --- | --- |
| | |
Heat 2 Tbsp. Clarified Butter on medium flame, in a pan. When the clarified butter melts and is hot add 200 Grams crushed vermicelli.

Roast these vermicelli in ghee till they becomes light brown in color and give a pleasant aroma. This would take around 10 minutes.

After they turn light brown in color and are properly roasted add 4 Tbsp. coarsely grounded almonds and cashews. Mix well and roast for another 5 minutes.

After roasting for 5 minutes 1 Cup add condensed milk. Spread the condensed milk properly over the vermicelli while pouring.

Mix everything and cook for 5 another minutes on low flame. Stir continuously while cooking.

Turn off the flame after cooking for 5 minutes.

Now let's set barfi. Take any square dish and brush clarified butter / ghee on the base and side walls of the dish. Brush the dish walls to a height that is slightly more than the height of the barfi that we are setting. This makes it easier to take the barfi out.

Pour roasted vermicelli and dryfruits mixture into the greased dish.

Using a spatula spread evenly to the set the barfi and attain the required height.

After levelling garnish with coarsely ground almonds and pistachios. After garnishing press the dry fruits with spatula properly to set the garnishing. This done so that the garnishing does not fall off while serving.

Now let it cool down to room temperature.

After cooling down cut barfi into square pieces with sharp knife. Use a flat knife to dish out the barfi pieces to a serving bowl.

Semiyon Ki barfi is now ready to serve.