Spinach -Most people don't like it and hence tend to avoid it in all forms in any meal. The Cannelloni Florentine is the perfect way to sneak spinach in the must menu of your meal. As they say – "Good memories are stimulated by aromas"this appetizing dish is no exception to it and will never let your memories fade away.
Epicures get ready to cease your craving with this Italian cannelloni recipe. Walk into your kitchen, toss some ingredients together and surprise your kids, family & friends with the scrumptious homemade cannelloni recipe.
The Cannelloni Florentine can serve to give a boost the house parties, pot lucks or dinner. It's time to try your hands on the most flavorsome vegetarian cannelloni recipe.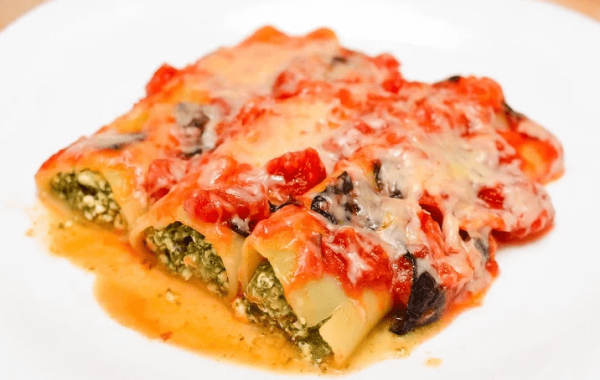 | | |
| --- | --- |
| | |
Make a mixture of spinach, grated Parmesan cheese, nutmeg and freshly ground black pepper.

Fill the cannelloni using the mixture prepared in step 1.

Now mix garlic, tomato juice, bay leaf, lemon juice, mornay sauce and Worcestershire sauce. Add pepper as per the taste.

In a large serving dish (enough to take cannelloni in single layer), pour a little sauce and place the stuffed cannelloni.

Scatter the mushrooms over the placed cannelloni in the dish and pour over the remaining sauce on it.

Remove the Bay Leaf after baking it for 30 minutes.

Now sprinkle grated yellow & parmesan cheese and again bake it till cheese gets golden-brown in color.

Ta-Da! Your Cannelloni Florentine is ready. Serve hot!
Contact Chef: Payal Jethani
If you like this recipe, you may also try: