A celebration is incomplete without a glass of chilled savory luscious mimosa cocktail to propose a toast.
Whether you are celebrating anniversaries or birthdays or throwing a housewarming party, fabulous mimosa cocktail is always a preferred choice.
A cocktail recipe is an easy cocktail recipe for parties. It calls for equal parts of champagne and a chilled citrus juice, preferably, orange juice. While this composition cocktail ingredients is generally preferred for preparing this lip smacking cocktail, you are free to experiment with various other ingredients and add a twist to this sparkling cocktail recipe.
We usually prefer using freshly squeezed orange juice in this cocktail, as it makes a huge difference to this amazing drink. Make sure that, both the orange juice and wine are cold enough, as it will make the drink bubblier and tasty.
There is no particular time to consume this delectable sparkling wine cocktail. You can enjoy a glass any time you want, be it regular days, celebration time, parties, buffets, or even after or before your workout.
Go ahead and make this palatable luscious mimosa cocktail recipe to tantalize the taste buds of your loved ones!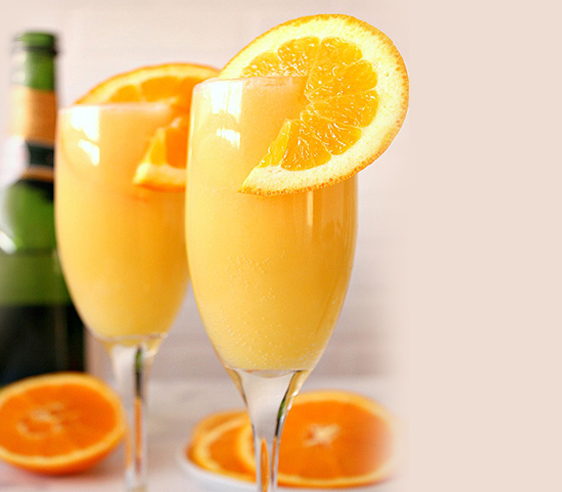 | | |
| --- | --- |
| | |
Fill 1/3 of champagne flute with Champagne/ Sparkling wine first. This will ensure proper mixing of cocktail and prevent a sticky mess at the top of the glass.

Top up with equal amount of fresh-squeezed chilled orange juice.

Don't stir your mimosas! The pouring action alone will mix your drink, and stirring them will release more bubbles & cause the wine to become flat.

Garnish with a few drops of lemon juice. You can also dress up the rims of your glasses with an orange twist or a piece of orange wedge.