Amidst the so called news that North Korea had mapped out detailed plans for missile launches to sea off Guam, its leader Kim Jong Un suddenly changed or rather we should assume postponed his plans. North Korea gave a sneak peek into its plans to launch missiles near Guam in photos released by its state media on 15th of August 2017, as leader Kim Jong Un was briefed on these plans by his army amid extremely heightened tensions with the United States.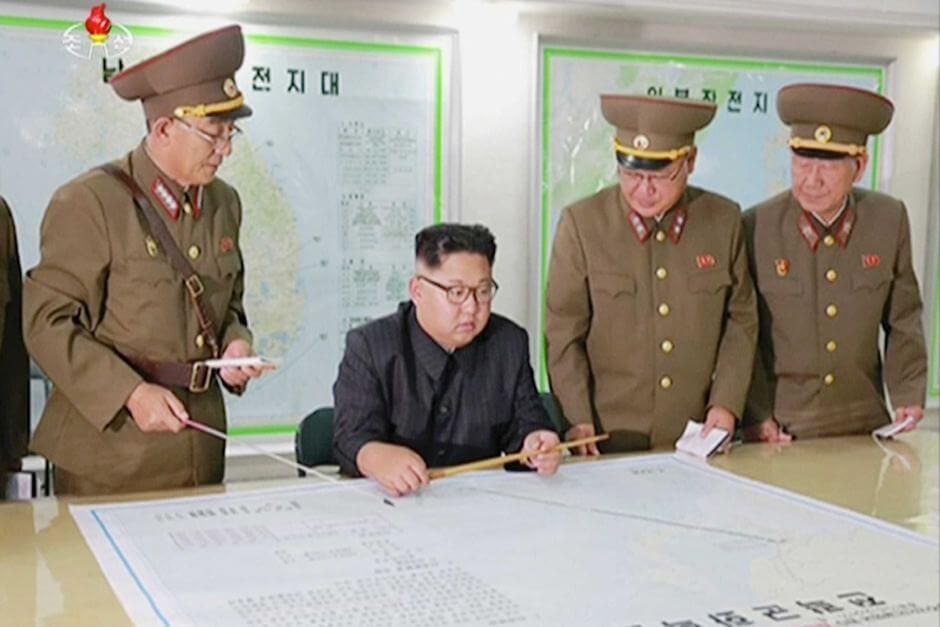 The sword is not off the neck yet. As per the North's state media, Kim Jong Un has just delayed his decision on firing missiles towards Guam while he want to wait and watch US actions a little longer. South Korea's President Moon Jae-in said "Seoul would seek to prevent war by all means".
US President Donald Trump stated that the US military was "locked and loaded" if North Korea acted unwisely. Pyongyang's plans to fire nuclear missiles near Guam propagated a wave of tensions in the region last week. In photos released with the KCNA report, North Korean President Kim Jong Un can be seen holding a baton pointing at a map supposedly showing the flight path for the missiles appearing to start from North Korea's east coast & flying over Japan towards Guam.
"Kim Jong Un of North Korea made a very wise and well-reasoned decision. The alternative would have been both catastrophic and unacceptable!" is what US President Trump commented on twitter on Kim Jong Un's decision to delay the missile launch.