"A win for the fourth time, isn't that great?" – say the Americans after the women's national team won the world football championship for the fourth time. The team's victory was celebrated with a ticker tape parade. This support has come to limelight after the campaign by the players on equal pay for women gained popularity.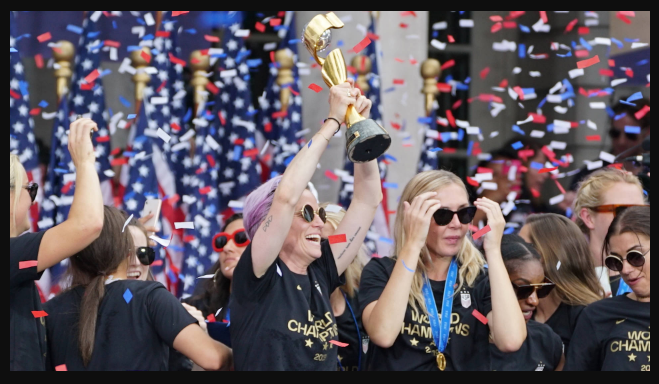 A gathering comprised of a thousand fans lined for the Ticker-Tape Parade along the Broadway, 'Canyon of Heroes' side stretches. The gathering was there to praise the players who were taken from battery to city hall via 'Canyon of Heroes'. The players were given the symbolic keys to the city by Bill de Blasio, Mayor of New York City (NYC).
The ceremony was conducted amidst the demands of pay equity with men by women. This issue has gained enough momentum that compelled the mayor himself to lead the mass that chanted "USA! Equal Pay" the entire day. The players, Carli Lloyd, Megan Rapinoe and Alex Morgan addressed the crowd at the ceremony.
"This group is so resilient, is so tough, has such a sense of Humor, is just so badass," addressed Rapinoe. She scored 6 goals this tournament that led to her claim on the golden ball.
She further addressed the crowd saying, "This is my charge to everyone: we have to be better. We have to love more. Hate less. We got to listen more and talk less … It's our responsibility to make the world a better place."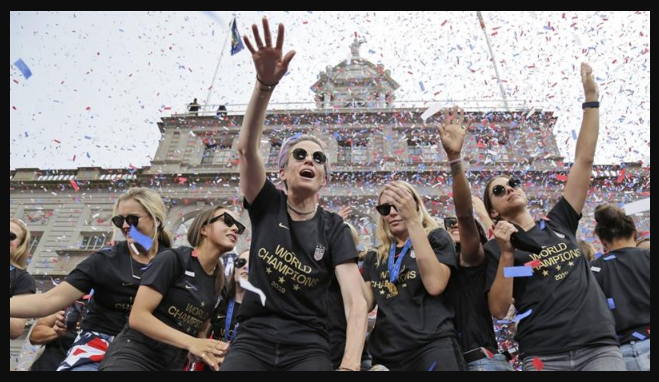 "There is nothing that can faze this group. We're chilling. We've got tea-sipping. We've got celebrations. We've got pink hair and purple hair. We've got tattoos and dreadlocks. We've got white girls and black girls and everything in between. Straight girls and gay girls."
"I couldn't be more proud to be a co-captain with Carli and Alex on this team. It's my absolute honor to lead this team out on the field. There's no place I'd rather be, even in the presidential race. I'm busy, I'm sorry."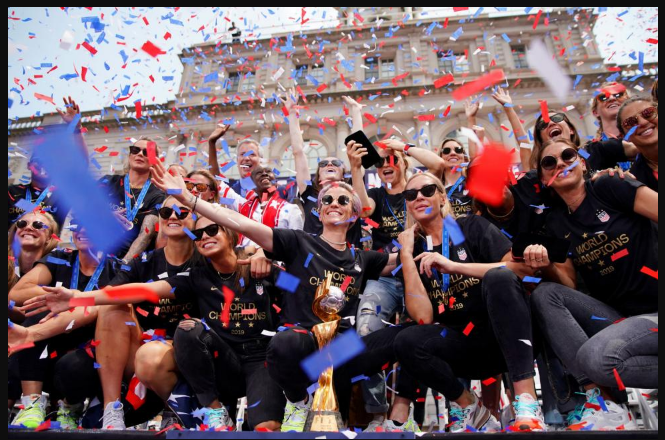 The squad won 2-0 over Netherlands beating them in the world champion race and topped the order. As the caravan took the players on the braodway, the entire Canyons echoed with"USA!" and "Equal Pay". The sound of air horns by the construction workers reminded of the victory day parade.
In March, all the players from the football team filled a lawsuit against US soccer Federation for gender discrimination. The lawsuit demanded compensation in pay making it equal as the male players.
"The level of interest and excitement is much higher from four years ago," said president of the parade's organizers, Jessica Lappin from Alliance of Downtown New York and referred to the parade for the team after its previous World Cup victory in the year 2015.
"That's partly because they're women's rights icons now."