What a tragic loss to British Fashion industry! The industry is taken aback by the sudden demise of the brightest & the pioneer menswear designer Joe Casely-Hayford.  Joe was still considered as the protagonist in the fashion world and age was just a number for him. At 62, his ideas were strong enough to give complex to any newbie.
After a brave three year fight with cancer, the brightest & the pioneer menswear designer died two days before London Fashion Week Men's Autumn Winter 2019 shows.
Joe Casely-Hayford was a fashion prodigy who came to limelight for his bespoke tailoring in the late 70s. His contribution in integrating traditional bespoke tailoring with elements of street style gave fashion establishment new heights. His Bespoke philosophy with a modern twist gleaned his acclaim.
Joe Casely Hayford Biography
A vanguard of modern British style, Joseph Ephraim Casely-Hayford was born in Kent, England on May 24, 1956. He graduated from St. Martin's School of Art & the Tailor & Clutter Academy before setting his pace in the British Fashion industry. The Fashion wizard began his four decade career in the 1980's & soon established an international reputation in the Fashion Industry.
Working as a black designer in a largely white industry, the acclaimed fashionista established his eponymous fashion house in 1984 with his wife, Maria. His first label Kit included debonair redesigns of military surplus garments like World War II parachutes and wingtips.
The brand quickly shot to fame for its innovative approach in bringing the cultural mix and energy of the east End together with the amazing skills of classic suit to furnish a modern appeal. Worn by rock stars & honored by royalty Casely-Hayford took London Style on a global level for multiple generations.
In 2009, Joe launched a new Casely-Hayford label with son Charlie to international acclaim. The duo opened their first storefront on London's Chiltern Street last year. He is survived by his two children, Charlie and Alice, and wife, Maria Stevens.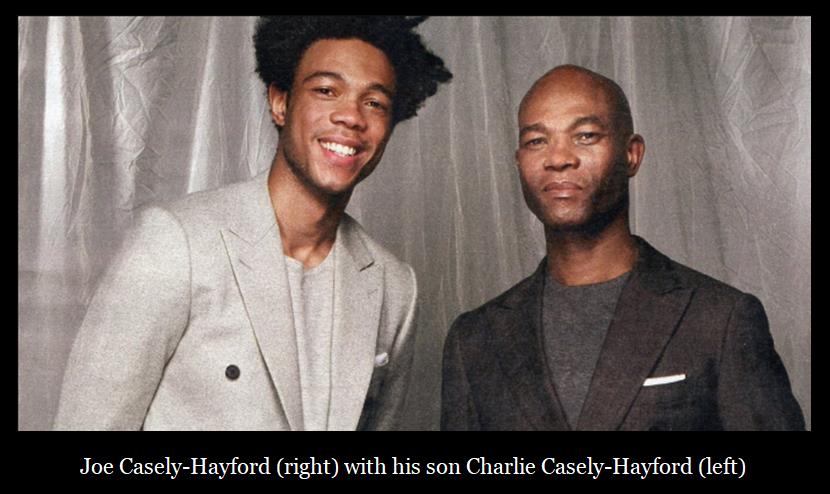 In addition to his own incredible success, Casely-Hayford was born to one of the most influential families in Britain. He is the grandson of acclaimed Ghanaian author, a political and pan-African nationalist J.E. Casely Hayford.
His journey in the Fashion World is not as smooth as it sounds. In an era when racial diversity was largely absent from the fashion power structure, to reach this great height was a hard cookie to crack. His determination & contribution to the Fashion industry is commendable. His rare and incisively experimental spirit is admirable.
He will forever remain alive in the hearts of the people.