Papad has been an integral part of the Indian Cuisine. They are made from Urad, masoor & Channa Dal. Papadam or poppadum are other names for Papad. Papad ki Sabji is a 5 minute recipe.  There are two ways of preparing this dish. One with curd and the other without curd. The one with curd takes a little longer to cook. Curn is not required in this preparation & it can be prepared in under 5 minutes.
This recipe does not require onion, tomato or garlic. You can serve it as a side dish or a starter. Papad Ki Sabji is infamously referred to as chakhna or chakna. There are a few variations to the recipe for example some people roast the papads before using them. This Rajasthani Style Papad Ki Sabji, however does not require you to make those efforts.
The idea of creating a papad sabji with curry may not sound appetising but once you taste this dish, you are definitely going to ask for more. So without further delay let us learn how to make this luscious and mouth-watering Marwadi Papad Ki Sabji.
Click here to SUBSCRIBE TO THE CHEF PAYAL JETHANI'S YOUTUBE CHANNEL.
Click here to play the YouTube Recipe Video for Sindhi Style Papad Ki Sabzi.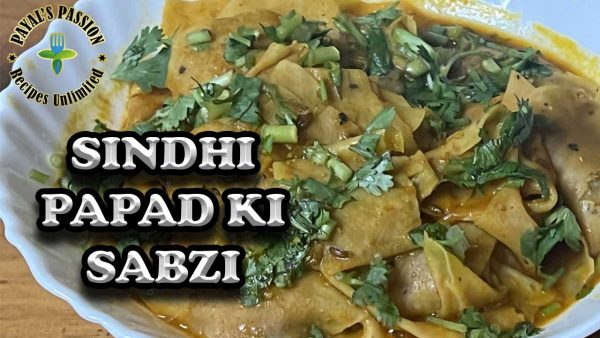 | | |
| --- | --- |
| | |
Break the Papads into small bite size pieces.

To a pre-heated wok add 2 Tsp Clarified butter / Ghee.

When the clarified butter / Ghee heats up, add ½ Tsp Cumin Seeds / Jeera.

When the Cumin Seeds / Jeera starts to crackle, add approximately 2 cups of water.

After adding water add, ½ Tsp Regular Salt, ½ Tsp Turmeric Powder / Haldi, ½ Tsp Red Chili Powder / Lal Mirch, 1 Tsp Coriander Powder / Dhaniya Powder & 1 Tsp Dry Mango Powder / Amchoor. Use less salt as the papads already have a lot of salt. Quantity of spices will depend upon the papads used. If the papads are already spicy, use less of red chili powder.

After adding spices turn the flame to high and let the spice & water mixture come to a boil. Boil the mixture for approximately 1 minute to make sure all the spices are cooked well.

After the mixture comes to a boil, add the papads and turn the flame to medium. Now cook till half of the original water remains. Keep stirring in between.

Turn the flame off when the more than half of the water evaporates. Make sure a little water remains.

Dish out the papad ki sabji in a bowl.

Garnish with finely chopped fresh coriander leaves.
Contact Chef: Payal Jethani
Tips:
Use less red chili powder if the papads are already spicy.
Use less salt as the papads already have a lot of salt.
Use of bikaneri papads is advised.
Tricks: Some people like the dish completely dry but this dish tastes better with a little bit of gravy. Thus at step 8 make sure that you turn the flame off when a little more than half of the water evaporates.