14th February 2019 has been marked as a black day in the history of India after a heinous suicide-bomber attack left 40 CRPF Jawans martyred in Pulwama district of Jammu & Kashmir, India.
A convoy of 78 vehicles carrying around 2,500 Central Reserve Police Force (CRPF) personnel left Jammu for Srinagar at 3:30 IST on 14th February 2019. The convoy was traveling on Jammu Srinagar National Highway (NH 44) when an explosive-laden vehicle was rammed into one of the buses of the convoy at Lethpora in Pulwama.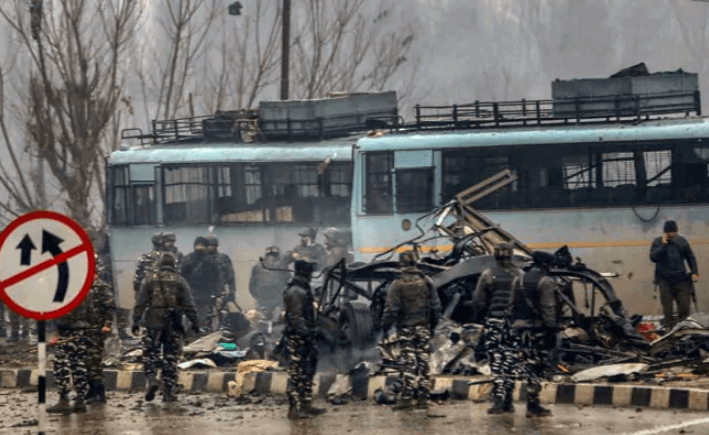 The wanton Pulwama Bomb Blast left 40 CRPF security personnel & the suicide bomber dead. Jaish-e-Mohammed, the Pakistan-based Islamist militant group has taken the responsibility of Pulwama Terror Attack.
The suicide bomber has been identified as Adil Ahmad Dar, a high-school dropout local youth from Kakapora, a tehsil in Pulwama district. The militant group released a video of Adil Ahmad alias Waqas Commando who had joined their group about a year ago.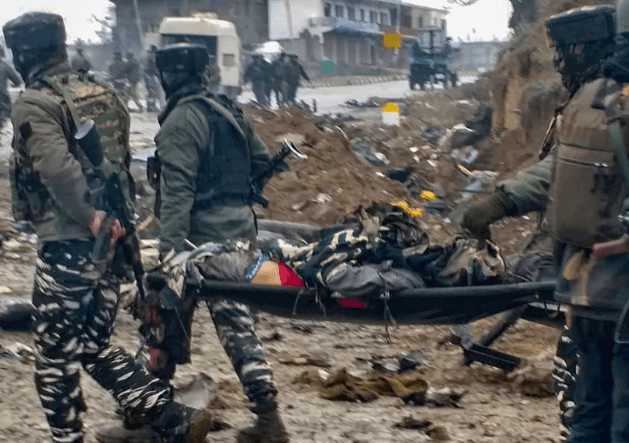 The Pulwama Attack 2019 has been declared as the most atrocious terror attack on state security personnel since 1989.
The bomb blast was so drastic that it reduced the targeted bus to a wrecked heap of iron. Body parts of CRPF security personnel could be seen strewn around the area where the bus was targeted by a vehicle-borne suicide bomber. According to the officials, the vehicle is reported to have been carrying 350 kg RDX explosives & ammonium nitrate.

Aftermath of Pulwama Attack 2019
Leaders from all over the world have condemned this barbarous attack while the United States has warned Pakistan not to harbor terrorism.
Indian Prime Minister Narendra Modi, Union Minister Arun Jaitley & several other political leaders have condemned the attack & expressed their grief for the brave CRPF martyrs & bereaved families.
Union Minister Arun Jaitley quoted CPRF Attack in Pulwama cowardice & condemnable act of terrorists. He prayed for the speedy recovery of the injured & said that the militants will be given an unforgettable lesson for their abominable acts.
State Funerals of CRPF security personnel killed in Pulwama Bomb Blast were held at their respective native place.
Punjab government announced a favored compensation of Rs.12 Lakh each to the families of the martyrs & government job to the closest blood relation of CRPF Martyr.
Protest bandhs & candle light marches were held across India in the memory of brave security personnel who laid down their lives for their motherland.
 
Latest Update on Pulwama Attack
While the nation continues to wail at the death of 40 CRPF soldiers in Pulwama, the security forces in Jammu & Kashmir are on high-alert.
A joint team of Indian Army comprising of 55 Rashtriya Rifles, Special Operation Group & CRPF launched a cordon in the wee hours yesterday to detain suspects in connection with Pulwama Bomb Blast.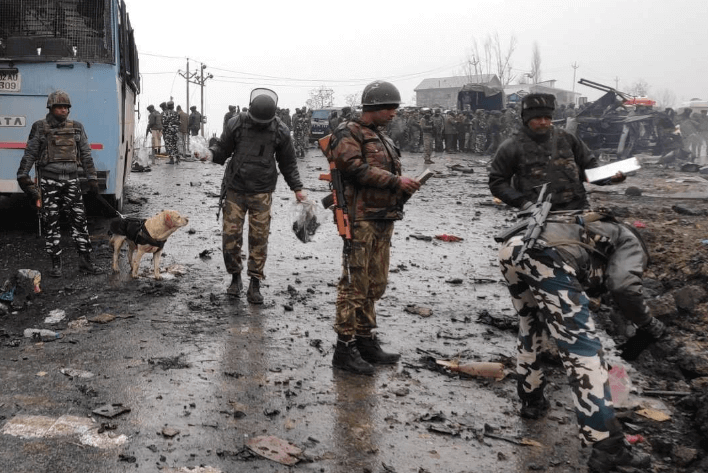 As per the latest update, Ghazi Rasheed, the master-mind behind Pulwama attack & a key JeM terrorist has finally been terminated in a 12-hour encounter in which India lost five soldiers, including one officer. Reports have revealed that he was a key aide of Jaish-e-Mohammad's chief Masood Azhar & responsible for recruiting & training terrorists in Kashmir Valley.
The team was also able to knock down Hilal Ahmed, a local Kashmiri bomb specialist.
The elimination of Kamran alias Ghazi Rasheed is considered as a huge achievement for the security forces after the Pulwama Terror Attack on 14th February 2019 that killed 40 CRPF soldiers.