The silicon valley behemoth Google announced that it will be bar election ads utilizing public voting history and political associations. This move is a result of growing pressure on social networking platforms over the management of political advertising in the run-up to the U.S presidential elections.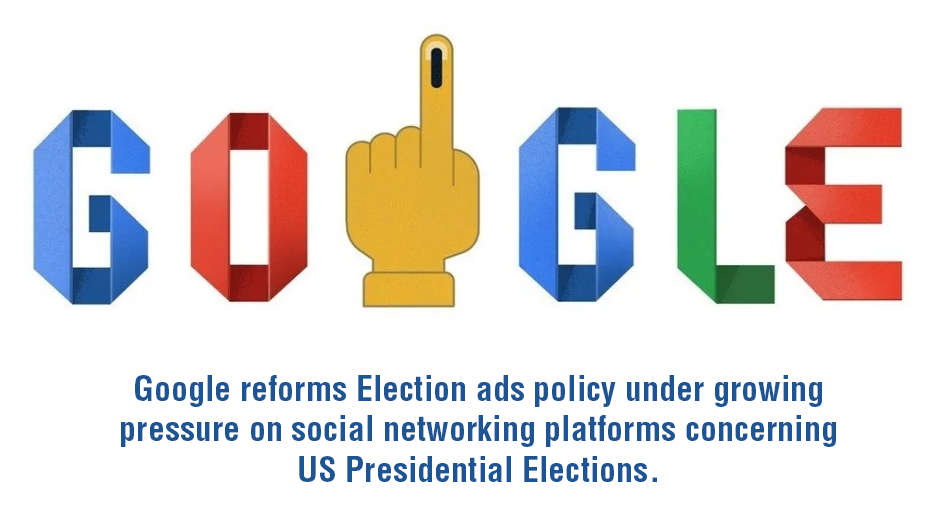 Earlier, the verified political advertisers were able to serve ads using data obtained from the conduct of users, such as browsing activity, personal preference. This helped to classify voters and serve them manipulative ads.  Advertisers could also upload information, such as the voting file lists, to target ads to an identical-looking audience, which expresses similar behavior to those in the data. However, this changes with the new election ad policy adopted by Google.
Reforms made in election ads policy:
Here are the following modifications made in the Google election ads policy:
It would restrict targeting the audience at the postal code level for election ads based on gender, sex and general location.
Nevertheless, advertisers can serve contextual google election ads based on a certain topic that the user is reading.
It would not permit the misrepresentation of election results or the legitimacy of age or birthplace of political candidates.
It will prohibit doctored and manipulated media for political and non-political ads.
Timeline for the new ads policy:
The company will roll out its ad transparency initiatives to state-level election ads on December 3. They will include them in an online database of political advertising catalogues.
Within a week, the new guidelines will be imposed in the UK for the upcoming general election on December 12.
Google would implement the ad policies in the European Union by the year's end
From January 6, 2020, the rest of the world will be served with less deceptive Google election ads. This is in conjunction with the presidential elections in the USA.
It is predicted that the reforms would cause political campaigns to move certain advertising to television and the smaller competitors of Google. This will offer a level playing field to all the political advertisers and ensure an accountable democracy for the people.